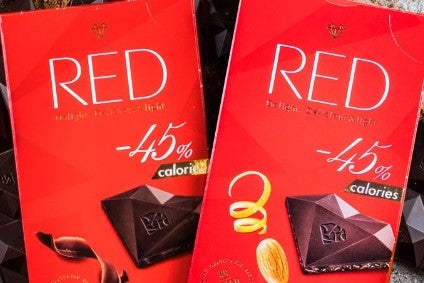 Swiss-owned, Latvia-based SIA Chocolette Confectionary is weighing up possibles moves into the US and Asia Pacific after making the UK its latest new major market.
Alex Tyumenin, the managing director of the company's UK subsidiary, told just-food the business was starting to look outside Europe, where the firm has also built a presence in Scandinavia, the Baltic states and Russia.
"We're just putting feelers out in the US. We've just hired a couple of people there, so we are starting to have discussions with retailers. The US business is just in its infancy. It's similar with Asia Pacific," Tyumenin said.
In recent weeks, SIA Chocolette Confectionary has made the UK its latest market, launching a range of its low-calorie products, sold under the Red brand, in the high-street stores of UK stationery retailer and bookseller WHSmith.
SIA Chocolette Confectionary touts the health credentials of its chocolate, pointing to the lack of added sugar, as well as the reduced level of fat and the lower amount of calories.
"Our chocolate has up to 45% less calories, which is our main unique selling point and 35% less fat and no added sugar whatsoever. The recipe took about five years to develop. The idea was very simple: to give consumers a healthier choice when it comes to chocolate and sweet snacking," Tyumenin said.
SIA Chocolette Confectionery manufactures the chocolate at a plant in Latvia, using stevia, maltitol and erythritol to sweeten the products.
In the company's existing major European markets, it sells "predominantly to major multiples", Tyumenin said.
"If you look at Russia, we're in about 5,000 stores and it's all with the larger retailers. We launched the factory only in November last year and immediately there was very high demand from Russian retailers, which is quite common when you have manufacturing in Latvia because there are quite a lot of products being moved from Latvia to Russia," he explained.
Looking at SIA Chocolette Confectionary's UK ambitions, Tyumenin said the company had started to introduce its range of products to the country's major retailers.
"The interest is definitely there," he said. "We are just waiting for range reviews and finding the right moment to launch with the first listing … We are following the process and hoping to get our next major listing fairly soon. I wouldn't name names. Whoever is more adventurous and wants to offer the consumers an interesting product proposition will be our next customer."