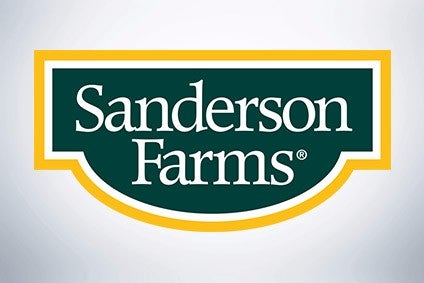 Lower prices for chicken products have depressed sales at US poultry group Sanderson Farms .
In the first nine months of Sanderson Farms' fiscal year, a period that ran to 31 July, the company said US wholesale chicken prices were lower than last year's levels. Revenue decreased to US$2.02bn, down from $2.12bn as a consequence.
However, chairman and CEO Joe Sanderson, Jr., stressed Georgia Dock prices were still strong compared to historical levels due to "continued favourable balance of the supply and demand for fresh chicken sold to retail grocery store customers".
Sanderson revealed operating profit fell to $178.4m in the nine-month period, down from $292.4m a year earlier. Net profit decreased to $113m, versus $188.6m in the comparable period of last year.
Looking to the group's prospects, Mr. Sanderson said the company's recent investments in production leave the poultry processor well-positioned to capitalise on future opportunities. "We continue to be pleased with progress at our new Palestine, Texas facilities," said Mr. Sanderson. "The plant is now operating at near full capacity, and the startup has been well executed. Construction continues on our new St. Pauls, North Carolina facilities, and we look forward to the opportunities the new facilities will provide to our shareholders, our customers and our employees when we begin processing at the new plant during our first fiscal quarter of 2017."