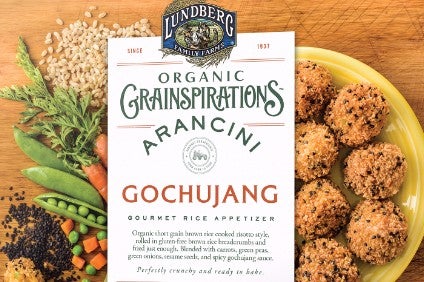 US-based rice products maker Lundberg Family Farms has launched a range of frozen products in its domestic market.
The company has rolled out Arancini frozen appetisers under the Organic Grainspirations sub-brand.
Lundberg Family Farms said the products, which contain ten stuffed rice balls and retail for US$8.99, were available in "grocers and retailers nationwide", although it did not specify which chains when approached by just-food.
In a statement, CEO Grant Lundberg said: "Our goal is to provide versatile and convenient options for families and individuals to incorporate into entertaining or cooking routines. For decades, we've been proud to grow and produce the highest quality, organic whole grain products for the pantry. Now, consumers can find us in the freezer aisle, too."
The appetisers are available in three varieties: gouda and mozzarella, using brown rice; the Korean-inspired Gochujang, brown rice balls stuffed with peas, carrots, onions and sesame seeds; and black rice, a blend of black and brown rice filled with cheese, sautéed onion and black pepper.