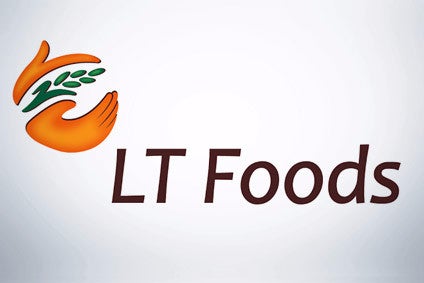 LT Foods, the India-based group, is aiming to double its annual sales by 2020.
The rice and organic foods supplier is targeting a top line of INR60bn, the company confirmed to just-food.
A spokesperson for LT Foods said the business was looking at different ways to grow the business.
"The current roadmap has been finalised keeping in mind the organic ways to grow," the spokesperson said. "India, US, Europe and Middle East are our growth drivers. We are targeting to grow our international business by 15-20% and venture into new categories that are high margin categories. We are open for inorganic ways to grow this business and open for opportunities in food space in India as well as internationally."
In LT Foods' last full financial year, which ran to the end of March 2016, the company generated revenue of INR29.98bn (US$439.5m), 7% higher than a year earlier. EBITDA stood at INR3.63bn, an increase of 17% year-on-year. Net profit fell 5% to INR720m.
In the six months to the end of September, LT Foods generated sales of INR15.54bn, up 7% year-on-year. EBITDA grew 2% to INR1.9bn. Net income stood at INR580m, 7% higher than a year earlier.
Last month, Indian conglomerate Future Group entered into a joint venture with LT Foods that will see the two companies take equal stakes in a new business, Genoa Rice Mills.
In November, LT Foods announced plans to set up a plant in the Netherlands, its first in Europe. The same month, LT Foods revealed it had set up a local joint venture with Japanese snacks maker Kameda Seika.