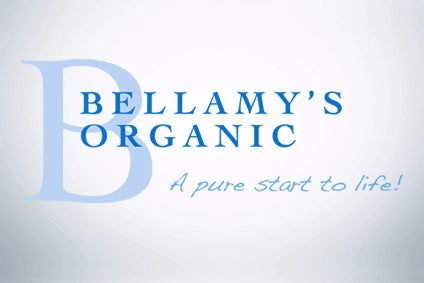 Under-scrutiny infant formula producer Bellamy's Australia is to buy a majority stake in a local blending and canning business, as well as work to a new contract with manufacturing partner Fonterra.
Bellamy's, which has seen its CEO step down this year after a profit warning led the company's shares to tumble, is to acquire 90% of Victoria-based Camperdown Dairy for AUD28.5m (US$21.5m).
The business also outlined a new deal with Fonterra, which makes formula for the embattled group. The agreement, which depends on Bellamy's selling AUD60.4m worth of new shares in its business, has been drawn up "to realign incentives and establish a platform of mutual growth", the company said.
The deal is dependent on Bellamy's finalising the share offer. Should the offer be completed, the terms of the agreement will see Bellamy's make a "one-off payment" to Fonterra of AUD27.5m. Bellamy's said the new contract with Fonterra "removes anticipated shortfall payments over the life of the contract" and "increases operating flexibility" to move some of the canning to its new majority-owned Campderdown Dairy site.
The two transactions will have an impact on the bottom line of Bellamy's and the company issued a new forecast for its second-half EBIT. Bellamy's now expects to post an EBIT loss of AUD9.5-14m, compared to its previous estimate of a profit of AUD9-13m.
Andrew Cohen, who replaced Laura McBain as the CEO of Bellamy's on an interim basis in January before taking the role permanently in April, said the company's investment in Camperdown Dairy "will help build our brand credibility with trade partners and customers".
Cohen also said Camperdown Dairy "strengthens our strategic position". Camperdown Dairy has a licence to manufacture products to sell in China and Cohen said the deal "increases control of our supply chain and the China Food and Drug Administration process".
At present, new regulations set to come into force in China on 1 January means brands selling "Chinese-label" formula in the country will have to register with the CFDA, although Bellamy's said "Australian-label" formula will still be able to be sold through cross-border, e-commerce platforms.
The prospects for Bellamy's in China were at the centre of its profit warning in January, when the company admitted it had seen ""temporary volume dislocation" in Chinese sales channels adjusting to new import regulations put in place by Beijing last year.
Cohen described the new deal with Fonterra as "a strategic and economic reset". He added: "It supports the Camperdown acquisition and investment rationale and fundamentally realigns incentives with Fonterra for future growth."