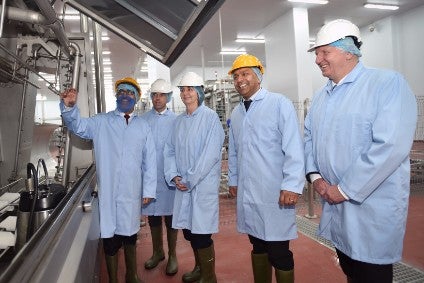 UK poultry processor Maelor Foods has opened a new GBP20m (US$26.7m) plant in Wrexham, Wales, which will generate 150 jobs and support local farmers.
The facility has been built on a 42-acre site that was previously occupied by dairy company First Milk and will produce 122 tonnes of poultry a day when fully operational, Maelor said in a statement today (27 November). Around 70 jobs have already been created at the plant.
Maelor, which is the sister company of Salisbury Poultry in the Midlands, received GBP3.15m in funding through the Food Business Investment Scheme under the Welsh Government Rural Communities – Rural Development Programme 2014-2020.
The plant was officially opened by Lesley Griffiths, cabinet secretary for energy, planning and rural affairs, Ken Skates, cabinet secretary for the economy and transport, and the Mayor of Wrexham, councillor John Pritchard on 23 November.
Maelor's managing director Raj Mehta acknowledged the help and support from the Welsh Assembly Government and Wrexham County Borough Council in the project which he said brings much needed employment to the area.
"With our pedigree and experience in the sector, we have been able to develop a facility that will operate with the same ethos and high standard of service that we have built our reputation on," Mehta added. "We have exciting plans for future growth that will bring more economical benefits to Wrexham and the Welsh economy."
Lesley Griffiths, cabinet secretary for energy, planning and rural affairs, said: "Our Food and Drink Action Plan has a target to grow the Welsh food and drink sector to a value of GBP7bn by the year 2020 and I am confident the sector is now in a position to attain this.
"Inward investment by businesses such as Maelor Foods is a key factor in realising this ambitious target."