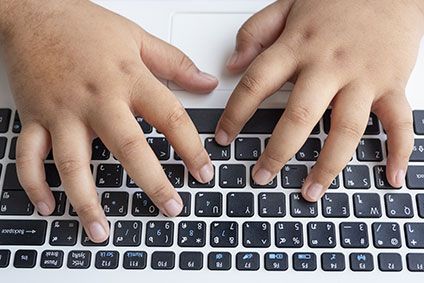 UK manufacturers, the foodservice sector and advertisers have written to Prime Minister Boris Johnson to complain about proposals to ban online adverts promoting food high in fat, sugar and salt (HFSS).
Two weeks ago, the UK government put out to consultation a plan to prohibit the advertising online of HFSS foods. The idea is part of a series of measures announced this summer to tackle what the UK government calls an "obesity time bomb" facing the country.
In a letter to PM Johnson, signed by four industry bodies covering the food and advertising sectors in the country, as well as by manufacturing giants including PepsiCo and Mondelez International, the government was urged to lengthen the period of consultation, which is set to end in late December.
The letter also questioned the evidence behind the proposal.
Obesity campaigners, however, support the measure.
Announcing its plan to tackle obesity in July, the UK government stated: "[We will be] banning the advertising of HFSS products being shown on TV and online before 9pm and holding a short consultation as soon as possible on how we introduce a total HFSS advertising restriction online".
The recently-announced consultation will "gather views from the public and industry stakeholders to understand the impact and challenges of introducing a total ban on the advertising of these products online, to help people live healthier lives and tackle childhood obesity". It could result in the online ban becoming total rather than restricted to specific times.
"As some of the UK's leading advertisers, the food and drink industry agree that products high in fat, salt or sugar should not be targeted at children. Advertisers use sophisticated online tools, which they have demonstrated to government repeatedly, to aim their advertisements at adult audiences. Why has the government chosen to disregard this evidence?" the letter to Johnson read.
"Furthermore, these restrictions disproportionately impact SMEs, who make up 96% of our industry. Is it really the government's intention that a local wedding cake business, for example, would not be able to share product details on its Instagram account in order to grow its sales?"
The four associations – The Food and Drink Federation, UK Hospitality, plus advertising bodies ISBA and the Advertising Association –pointing to the pressures wrought by Covid-19 and by Brexit, added: "The sheer volume of critical work facing food companies in the next few weeks means that at this time we simply cannot give this consultation the resource it deserves and demands. Something will have to give. The timing of this consultation is frankly astonishing, especially as the government's stated ambition is to introduce these proposed advertising restrictions at the end of 2022. There is no reason to introduce this consultation and demand submission responses with such haste while effectively limiting our opportunity to respond, especially before the end of December."
A spokesperson for the UK's Department of Health and Social Care spokesperson told just-food: "We are determined to tackle obesity across all ages and we have already taken significant action – cutting sugar from half of drinks on sale, funding exercise programmes in schools and working with councils to tackle child obesity locally. We have committed to restricting HFSS adverts on television before 9pm, but we also need to go further to address how children can be influenced online by adverts promoting unhealthy foods."
The government has support from some in campaign circles. Barbara Crowther, co-ordinator at the Children's Food Campaign, tweeted: "@10DowningStreet should stick to its healthier food advertising plan."
Confectionery sales have boomed during #Covid19. Mondelez increased market share by 2.2%, with products contributing to rising obesity levels. Let's not cry over any spilt Dairy Milk ads. @10DowningStreet shd stick to its healthier food advertising planhttps://t.co/B3jiCnOUqM

— Barbara Crowther (@chocoholix) November 22, 2020
Tam Fry, chairman of the National Obesity Forum, a charity founded in 2000 to raise awareness of the issue in the UK, said: "It is quite understandable that the food and drink industries will pull every trick in the book to get its way, but enough is enough. For the lifetime of the Forum, they've prevaricated over reformulating their high sugar, fat and salt-laden products, the triggers of obesity and its related diseases.
"It would be iniquitous if Boris Johnson now U-turned on any of the measures he proposed in his 'war on fat' proposals to do their bidding. Indeed, if Johnson had taken up the urgent obesity strategy commissioned a full year ago from ex-CMO Dame Sally Davies, the FDF and out-of-home industries would already be facing extensions of the sugary drinks levy and further regulation. So, instead of bleating about the hard times that they, and in truth, the whole nation is facing, industry should get down to deliver the HFSS reductions they knew were necessary more than 20 years ago. If we no longer had such less-than-healthy foods to protect people from, an advertising ban need never have been considered."
Last October, Dame Sally issued 48 recommendations for the UK government to follow as it worked towards its target of halving child obesity by 2030.