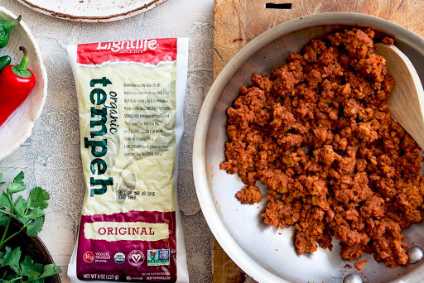 Canada's Maple Leaf Foods has agreed to acquire US plant-based protein manufacturer Lightlife Foods from private-equity firm Brynwood Partners for US$140m.
Announcing the deal, Maple Leaf claimed the acquisition establishes it as a "leader" in the US plant-based protein category through the Lightlife brand, which offers refrigerated products such as plant-based hot dogs, breakfast foods and burgers.
"Expanding into the fast-growing, plant-based proteins market is one of Maple Leaf's strategic growth platforms and supports our commitment to become a leader in sustainability," Maple Leaf president and CEO Michael McCain said. "Consumers are increasingly looking to diversify their protein consumption, including plant-based options. The acquisition of Lightlife provides Maple Leaf with a leading market position and brand in the United States in a category that is outpacing growth in the broader packaged foods sector.
McCain said Maple Leaf will continue to grow its presence in the category through brand-building investment, innovation and "leveraging our respective capabilities."
Lightlife president and CEO Roy Lubetkin, who will remain at the business, echoed McCain's sentiments, suggesting the deal will "accelerate our growth and broaden our reach".
Lubetkin said: "Maple Leaf Foods has an industry-leading commitment to sustainable protein, including a strategic focus on plant proteins, and being part of this incredible organisation will enable the continued growth of our brands."
Lightlife, which employs around 100 people at a facility in Turners Falls, Massachusetts, will operate as a subsidiary of Maple Leaf. The group reported 2016 sales of approximately $40m and has 38% market share in the US refrigerated plant proteins segment.
According to CanAccord analyst Derek Dley, the acquisition is a good fit for Maple Leaf's growth strategy. "This is exactly the kind of acquisition management had discussed previously, when going through its wish list of acquiring a leading brand, increasing its exposure in the US, establishing a foothold in higher growth areas of the prepared foods market, and remaining a leader in food sustainability," Dley said.
The acquisition will be financed through cash-on-hand and, based on Lightlife's current operating results, is expected to be accretive to 2017 earnings. The transaction is subject to a regulatory review in the US and is expected to close in March, Maple Leaf said.
The US market for plant-based proteins is estimated at $600m, with the refrigerated category representing over $110m in sales and delivering double-digit annual growth, according to figures provided by the company.
Rival brands include UK-based Quorn Foods, acquired by Philippines-based Monde Nissin in 2015, Gardein, snapped up by US group Pinnacle Foods a year earlier and Morningstar Farms, which is owned By Kellogg.