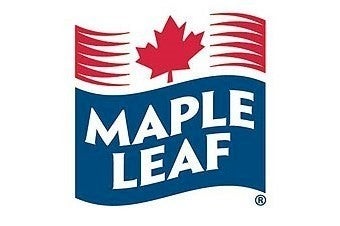 Canadian meat processor Maple Leaf Foods run up a fourth-quarter loss of C$23m – narrower than a year earlier – but shares in the company fell in early trading today (26 February).
Maple Leaf booked a net loss from continuing operations of C$23.0m, or a loss of $0.16 per basic share for the three months to 31 December, compared to a loss of $47.9 million (loss of $0.34 per share) last year.
The loss included C$11.5m in expenses related to restructuring and other related costs, versus C$12.5m in the fourth quarter of 2013.
Maple Leaf made an adjusted operating loss of C$13.7m compared to a loss of C$56m a year earlier.
The company said its meat products division benefited from higher pricing, which was partially offset by network transitional costs and lower volumes. Its agribusiness unit benefited from higher market prices for hogs and lower feed costs.
Sales from continuing operations were up 6.1% at C$794m, or 5.1% after adjusting for the impact of foreign exchange, due to higher pricing across the meat products division, partially offset by lower volumes in the prepared meats business.
"2014 was a pivotal year for Maple Leaf Foods. Our seven year journey of investment and development, headlined by the rebuilding of our supply network, is nearing its end," president and CEO Michael McCain, said. "We have completed what we set out to accomplish in 2007 and finished the year with new momentum. We will be closing our largest legacy plant in Kitchener this week, leaving only one remaining facility in Toronto to close. Our margins have been structurally reset over the year, and while volume continued to be weak in the fourth quarter, we expect it to recover in 2015 as the fundamental environment continues to improve. We are confident that we will deliver our strategic targets in 2015."
Shares in Maple Leaf were down 3.97% at C$21.78.