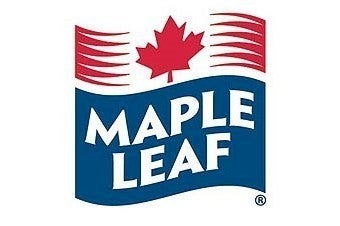 Maple Leaf Foods has seen an improvement in operating earnings for the first quarter of the year as a result of the higher pricing of meat products.
The Canadian meat giant reported an operating profit of C$10.4m (US$8.65) compared to last year's loss of C$29.9m. At the time the US hog virus pushed up costs and contributed to pressure on profits. It saw Maple Leaf increase prices in the second quarter to recover margins.
"We recorded a $40m improvement in our adjusted operating earnings year over year, restored our margins and made excellent progress in recovering our prepared meats volume from last year's unprecedented environment," said Michael McCain, president and CEO of Maple Leaf Foods. "We were able to reduce our operating costs as we come to the final stage of our network transition, and today, with the last production run at our last legacy plant, we are bringing an end to our duplicative supply chain. Our final phase is to bring our new state of the art facilities to full operational effectiveness. All of this keeps us on track to reach our strategic financial target."
Net loss from continuing operations for the first quarter was $2.8 million compared to a loss of $124.6 million last year.
Sales increased to $780.3m from $711.3m a year earlier.