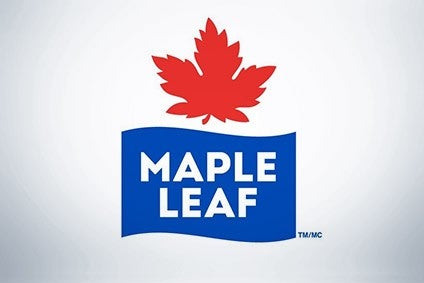 Canada's Maple Leaf Foods plans to construct a new poultry plant which will create more than a 1,000 local jobs once it comes on stream.
The protein-centric packaged foods company is building the 640,000-square-foot, value-added facility in London, Ontario. The cost of the project is estimated at CAD660m (US$497.2m), with Maple Leaf putting in some of its own cash, while the local and national governments will also support the project with a proportion of the funding.
Construction is due to begin in the spring, supporting around 300 new jobs during that phase. The site is expected to become operational in the second quarter of 2021 and will lead to more than 1,450 direct full- and part-time positions, with more to follow as the plant increases production over time.
But at the same time, Maple Leaf said it plans to retire three other ageing plants in Ontario and transfer production to the new facility, a move that will have some impact on workers.
However, the London plant is expected to create a further 1,400 jobs in the supplies and services sector, and generate an estimated CAD1.2bn for the local economy once it is fully operational.
"This is a historic investment in the Canadian poultry sector, providing significant stakeholder and economic benefits and ensuring that Canada has sufficient domestic processing capacity to meet forecasted poultry production and demand," said Michael McCain, the president and chief executive of the Toronto-listed firm.
Maple Leaf said the new plant should add around CAD105m to its adjusted EBITDA on a run-rate basis within 12 months of starting production, and contribute more than 270 basis points to profit margins based on the firm's current sales, adjusted for acquisitions.
Ontario-based Maple Leaf added that it expects the plant to be accretive to earnings from 2022 and should help the company achieve its margin target of 14% to 16% under its five-year strategic plan announced in 2017.
In the 2017 calendar year, Maple Leaf booked sales of CAD3.5bn, adjusted EBITDA of CAD381m, and an associated profit margin of 10.8%. Net earnings came in at CAD164m. It also set out a multi-faceted strategy "to lead" in sustainability; "to make great food"; "invest in its people"; "build a digital future"; eliminate waste; and to broaden the company's reach beyond Canada.
To that end, it has made a number of acquisitions, including plant-based companies Field Roast Grain Meat Co. last December and Lightlife Foods in February 2017, with both of those firms coming under the oversight of Greenleaf Foods, a new subsidiary formed in October this year. And more recently, Maple Leaf snapped up local peer VIAU Foods, purchased the organic chicken assets of two poultry farms from Cericola Farms, and took a minority stake in Entomo Farms, a North American producer of insects.
"Once constructed, this new poultry facility will be a significant contributor to our overall adjusted EBITDA margin target and will provide tremendous long-term strategic value in an important growing component of our business," McCain said.
Maple Leaf is putting in CAD605.5m of its own cash into the London project, while the Ontario government will inject CAD34.5m under a so-called Strategic Innovation Fund, and the national government will add a further CAD20m. The company is also getting an CAD8m loan from the AgriInnovate Fund.
Another CAD5m will be invested in the next five years "on projects that accelerate adoption of advanced manufacturing and production technologies and support the Company's goal to reduce its environmental footprint by 50% by 2025", Maple Leaf said in a statement announcing the London project.
Maple Leaf added that it expects to incur one-time costs of around CAD140m in related expenses from the plant, including about CAD45m in net cash restructuring.
In terms of plant closures related to the London factory, Maple Leaf said it expects to terminate its St. Marys site in Ontario by late 2021, and two plants located at Toronto and Brampton by mid-to-late 2022.
"We deeply regret the impact that these eventual closures will have on our people and communities," McCain said. "While these closures are several years away we are informing our people well in advance, allowing us to openly communicate and support them through this long-term transition. We will provide them with job opportunities at the new facility and other Maple Leaf plants, and services to help them eventually secure new employment."