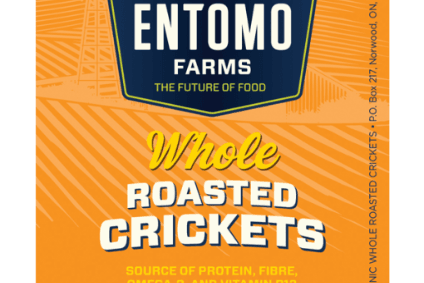 Canada's Maple Leaf Foods has taken a minority investment in Entomo Farms, a North American producer of insects destined for human consumption.
Entomo Farms received an undisclosed cash injection from Canada's largest protein-centric packaged goods company in the form of a series A round of funding, according to a statement. Entomo is partnered by Crickstart, which makes protein bars, gourmet crackers, and smoothie mixes with the firm's cricket powder.
The insect producer was founded in 2014 by brothers Jarrod, Darren, and Ryan Goldin and provides what it says is a "nutritious and sustainable alternative to traditional meat protein" with its cricket and mealworm powders and whole roasted insects. The company supplies insect protein ingredients to global food firms to meet consumer demand for alternative proteins.
Its products are available online via its website and at select retail stores.
Jarrod, who serves as president of Entomo Farms, said: "These funds will allow us to expand production to meet increasing demand, while Maple Leaf's knowledge will help us continue to meet the needs of large food producers as we grow."
Maple Leaf chief executive Michael McCain said the cash injection will help spur Entomo's aspirations to become the world's largest insect protein supplier.
"Our minority venture investment in Entomo is consistent with our vision to be the most sustainable protein company on earth," he added.
"We see a long-term role in this form of sustainable protein delivery, both for animal and human consumption, as it is elsewhere in the world."
Crickstart co-founder Daniel Novak said: "As a partner of Entomo Farms, we're so excited to see this support for the company as well as for our industry from a protein market-leader like Maple Leaf."