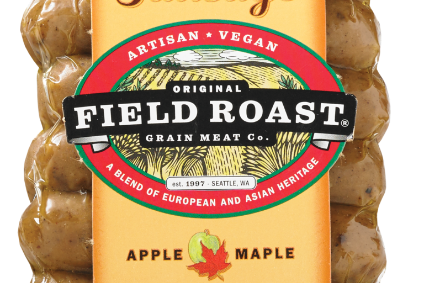 Seattle-based Field Roast Grain Meat Co., owned by Canada's Maple Leaf Foods, has signed an exclusive distribution agreement with Australian company Essen Foods.
The US company is hoping to make further inroads into both the Australian and New Zealand markets.
Field Roast, a supplier of grain-based meat and vegan cheese products, predominantly to the North American market, said the deal with Melbourne-based Essen came about after a competitive review of distribution partners in Australasia.
Essen, with which Field Roast already had an existing relationship, was chosen partly because of its experience as an importer and distributor of American-made food products.
Dan Curtin, president of Field Roast, said: "We're so pleased to expand our relationship with Essen Foods by naming them the exclusive distributor for Field Roast products in Australia and New Zealand.
"This is a strategic decision we've made to create efficiencies supporting our continued growth and look forward to continuing this momentum internationally with the support of Essen Foods."
Essen Foods will expand distribution for Field Roast products including Field Roast Sausages, Deli Slices, FieldBurger, roasts, loaves and the brand's new frozen set.
With this agreement, Essen Foods will also provide Field Roast with regional advertising, in-store marketing support, trade show presence and Australian label compliance.
Yeshaya Brown, founder of Essen Food, said: "Essen Foods is delighted to have been selected to be the exclusive distributor of Field Roast products. We are thrilled to work together in achieving full market penetration of the premium Field Roast product range throughout Australia."
Through Essen Foods' distribution channels, Field Roast is stocked in a network of independently-owned Australian retailers including Vegan Pantry, The Leo's Fine Food & Wine Network, Supabarn, The Cruelty Free Shop, Chapley's IGA Drake's IGA, Ritchies IGA and Foodworks.
Maple Leaf Foods acquired Field Roast in December for US$120m.