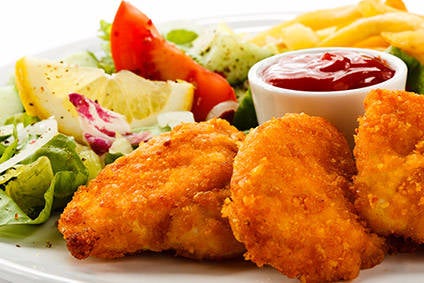 Brazil's Marfrig Global Foods confirmed today (20 August) that US-based Tyson Foods has acquired its subsidiary Keystone Foods for US$2.4bn.
Completion of the deal was heavily reported on Friday (17 August) but meat giant Tyson would not confirm the accuracy of those reports.
In a statement from Tyson today, the New York-listed firm said the purchase was concluded for $2.16bn in "cash". On a follow-up conference call with investors, the company said the discrepancy over the purchase price reported by Marfrig was probably due to a minority interest. The Brazilian firm said in its own presentation the deal amounted to $2.2bn, and $2.4bn excluding that portion.
Keystone is located in the US and supplies products from burgers to chicken nuggets to customers including fast food giant McDonald's. Marfrig bought Keystone for $1.26bn in 2010. Outside the US, Keystone has operations in South Korea, China, Malaysia, Thailand and Australia.
Marfrig said in a statement the deal was conducted through McKey Luxembourg Holdings, S.a.r.l. and MFG (USA) Holdings, which control the companies operating the Keystone Foods business.
Of the total transaction, Marfrig said $1.4bn "represents the equity value to Marfrig after debt settlement and other customary adjustments".
It added: "All assets of Keystone Foods will be sold, except for the beef patty processing plant located in North Baltimore, Ohio, which is one of the largest hamburger plants in the US, with capacity to process 91 thousand tons of processed beef per year.
"Marfrig's continued ownership of the North Baltimore plant is aligned with the company's strategy to focus on the beef business, including Marfrig's recent acquisition of a controlling interest in National Beef Packing Company's portfolio, which was closed in June 2018."
According to an interview conducted by news agency Reuters with Marfrig's chief financial officer Eduardo Miron on Sunday, proceeds from the Keystone sale will be used to reduce debt by year-end.
The company is targeting to reduce its net-debt-to-EBITDA ratio to 2.5 times in December from 4.2X currently.
After the Keystone sale and National Beef acquisition, Marfrig does not plan more mergers or acquisitions to increase its portfolio, Reuters quoted Miron as saying.
Tyson said in its own statement that the acquisition of Keystone includes six processing plants and an innovation centre in the US with locations in Alabama, Georgia, Kentucky, North Carolina, Pennsylvania and Wisconsin. It also includes eight plants and three innovation centres in China, South Korea, Malaysia, Thailand and Australia.
The deal builds on the firm's expansion in the value-added protein business.
Tom Hayes, president and chief executive, said: "Keystone is a leading global protein company and will be a great addition to Tyson Foods. This acquisition will expand our international presence and value-added production capabilities and help us deliver more value to our foodservice customers.
"Keystone provides a significant foundation for international growth with its in-country operations, sales and distribution network in high-growth markets in the Asia-Pacific region, as well as exports to key markets in Europe, the Middle East and Africa."
Tyson added that Keystone generated annual revenues of $2.5bn and adjusted EBITDA of $211m in the year to 30 June. Around 65% of its revenue was from US-based production and the remaining 35% came from its Asia-Pacific operations.