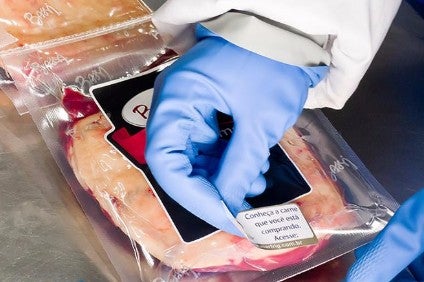 Brazil-based meat supplier Marfrig has booked half-year losses of more than BRL400m (US$126.9m) hit by exchange rates and a near-12% drop in revenues.
Marfrig posted a first-half loss of BRL400.3m for the six months to the end of June, compared to BRL238.1m a year earlier.
Expenses linked to taxes weighed on its bottom line but an 11.8% drop in net revenues hit Marfrig's operating profit, which fell almost 32%.
Pressure on revenues from Marfrig's beef division and the impact of a rising Brazilian real on the company's international sales have weighed on the company's top line.
Marfrig's first-half net revenue stood at BRL8.45bn, compared to BRL9.58bn a year earlier.
Revenues from Marfrig's US-based arm Keystone dropped 9.6% to BRL4.34bn. When measured in US dollars, Keystone saw its revenues rise 5.2% to BRL1.36bn.
In Marfrig's commentary on its second-quarter net revenues, it said its Keystone division grew net revenues by 4% in US dollars to US$697m, helped by growth in Asia, the Middle East and Africa.
The unit generated "record" adjusted EBITDA in US dollars of US$69m, Marfrig said.
The group's beef business posted a 14.1% fall in first-half net revenues to BRL4.11bn. Second-quarter net revenues dropped 10% to BRL2.1bn with the rise in the Real accounting for nine points of that decline. Domestic beef sales volumes rose 4%, with Marfrig seeing a recovery from the impact of the Carne Fraca fraud probe that shook Brazil's beef industry at the start of the quarter.
At the time the allegations were announced, Marfrig said it was not one of the companies under investigation.