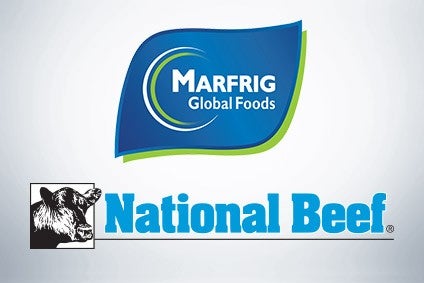 Marfrig Global Foods said it is buying a 51% stake in US-based National Beef Packing Company for US$969m in a transaction that will make the Brazil-based firm the world's second-largest beef producer.
Alongside news of the National Beef deal, Marfrig also announced a plan to sell US-based subsidiary Keystone Foods.
Marfrig said the move for National Beef would broaden its geographic reach and improve its balance sheet.
Once the deal is complete, Marfrig will have BRL43bn (US$12.72bn) in combined revenues, the company said today (9 April). At the same time, Marfrig will gain access to markets such as Japan and South Korea.
The National Beef transaction, plus a sale of Keystone, should help Marfrig to achieve its goal of reaching a leverage ratio of 2.5 times by the end of 2018, the company said.
"The acquisition of National Beef reflects our sustainable growth strategy," Marcos Molina, Marfrig's chairman, said. "From now on, we have become the Brazilian company of the sector with the best financial health, proved into the lowest rates of leverage."
National Beef, which has been 79%-owned by Leucadia National Corporation since 2011, had sales of $7.3bn in 2017. It exports to 40 countries including Japan, a market currently closed off to Brazilian meat exporters.
Headquartered in Kansas City, Missouri, National Beef has two slaughterhouses based in Dodge City and Liberal, Kansas. The company has the capacity to slaughter 12,000 heads of cattle a day, and accounts for 13% of total U.S. slaughtering capacity.
Once the transaction is complete, Leucadia will transfer control to Marfrig and remain a minority shareholder in National Beef, with a 31% interest. US Premium Beef, an association of American producers, will hold 15% and other shareholders the remaining 3%.
The deal translates to an enterprise value to National Beef of $2.3bn, including debt.
Marfrig chief executive Martin Secco said of the deal: "The acquisition of National Beef represents the realisation of a unique opportunity. With the transaction, we will have operations in the world's two-largest beef markets, will gain access to extremely sophisticated consumer countries and will be able to grow while maintaining rigorous financial discipline."
In its latest financial results, Marfrig reported adjusted EBITDA of BRL1.7bn.
Key executives of National Beef, including CEO Tim Klein, will continue to manage the company. The executive board will now consist of nine members, with five nominated by Marfrig, two by Leucadia and two by the other minority members.
"We are pleased to remain a significant shareholder in National Beef and to partner with Marfrig and the company's management team in its continued development," said Rich Handler, CEO at Leucadia and Brian Friedman, president of Leucadia.