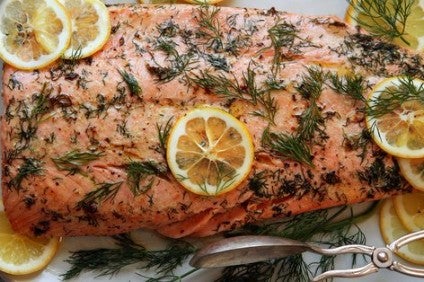 A salmon processing factory in north-west France owned by Norway's Marine Harvest has been destroyed by fire, creating an uncertain future for production and workers.
The Marine Harvest Kritsen plant located in Landivisiau in the Finistere region of Brittany was hit by the "major" fire last Wednesday (11 July), with 95% of the building destroyed. The facility specialises in smoked salmon products.
Marine Harvest said it has since consulted with workers and customers, and a crisis-management team has been set up to coordinate activities.
A statement from the company read: "Marine Harvest Kritsen is currently investigating the different solutions to fulfil existing contracts while safeguarding the same quality level. Marine Harvest Kritsen cannot make any statement with regard to the future: the company's capability to maintain its market share and to satisfy its customers will be essential."
A spokesperson confirmed to just-food that 383 people are employed at the site, with 293 on permanent contracts, but could not say what will happen to their jobs given the circumstances. However, the statement noted they would be compensated for the loss of belongings.
Marine Harvest has two other plants located in the same region, based at Plouenan and Chateaulin. The prospect of job transfers to those sites is being investigated, but the spokesperson said it is "too early" to make any judgment at this stage.