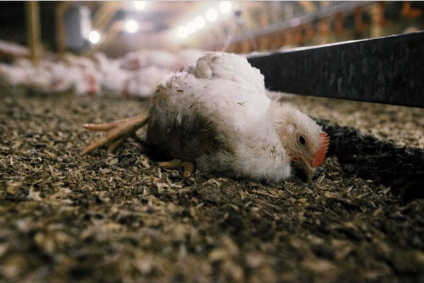 UK retailer Marks and Spencer is investigating a poultry supplier, Hook2Sisters, after an animal rights organisation published "disturbing" images of conditions on two poultry farms.
People for the Ethical Treatment of Animals detailed conditions on two farms in Norfolk and Cambridgeshire that supply M&S for the retailer's Oakham chicken line and are operated by Hook2Sisters, a joint venture between UK poultry processors 2 Sisters Food Group and PD Hook.
Describing the poultry housing, PETA said: "[The chickens] spend their entire lives indoors, never feeling the warmth of the sun or getting a breath of fresh air. The sheds are barren, apart from rows of feeders and water stations and a few bales of straw… The shed floors were strewn with the bodies of dead chickens. In some cases, birds were packed in tightly with these corpses and had to clamber over them to reach food and water. Many other birds were missing feathers or had severe injuries."
On its website, M&S states chickens reared for its Oakham "are housed is enriched to encourage bird movement and activity."
A spokesperson for M&S told just-food supply from these farms has been suspended pending the outcome of an investigation into the supplier.
"We are very disappointed to see the images and take this issue very seriously. As an immediate action we have suspended supply from these farms while we investigate this thoroughly. We work hard to uphold higher welfare standards which is recognised by leading animal charities. We'll take all necessary steps to ensure these standards are maintained," the spokesperson said.
A spokesperson for Hook2Sisters said that the business was not responding beyond M&S's statement.