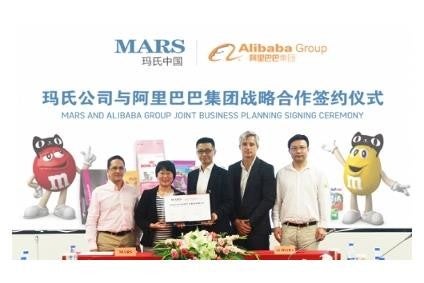 Mars Inc., one of the world's largest food manufacturers, today (29 June) announced a "global strategic business partnership" with China-based online and mobile commerce firm the Alibaba Group.
Mars said it will establish an "integrated online and offline business model" to more effectively serve its hundreds of millions of consumers in China.
Under the terms of the deal, all of Mars' brands in China including six brands worth more than US$1bn each – Dove, Snickers, M&M's, Extra, Pedigree and Royal Canin – will be available on all Alibaba platforms including Tmall.com and Rural Taobao.
Mars said it is also partnering with Alibaba to create an "e-commerce food safety programme that benefits consumers and the broader consumer goods industry, through a collaboration with Mars' global food safety centre in China".
Mars said the partnership will mean "consumers will be able to enjoy a more convenient and international one-stop shopping experience… For the first time, all of Mars' brands in China will be available online to consumers in its various Tmall flagship stores and to rural consumers through Rural Taobao."
Mars said it will "leverage Alibaba's marketing services, media properties, mobile reach, big data and consumer insights to directly engage with its consumers. Alibaba's supply chain management and logistics network will also help expand Mars' efficiency and reach."
Alibaba vice-president Jet Jing said: "Mars is an invaluable addition to our ecosystem, and this collaboration is a significant milestone for Alibaba as we now have established close partnerships with three of the world's top food and beverage companies. We will continue to enable the digital transformation of our partners to help them leverage our ecosystem of marketplaces and infrastructure of support for brand building, customer management, channel expansion and product innovation."
Both companies said they also shared "a common commitment to improving safety standards, quality monitoring, and consumer awareness in China".