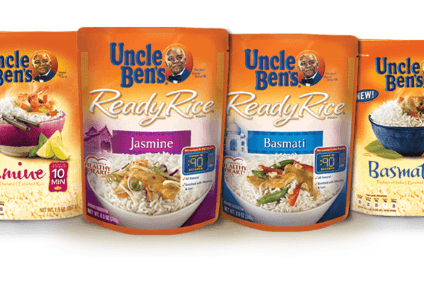 Mars Inc has unveiled a health drive behind food brands including Uncle Ben's, Masterfoods and Dolmio.
The company said the initiative will see it reformulate products across its food portfolio – which is separate from its confectionery business – over the next five years. Efforts will focus on the reduction of added sugar and sodium, as well as the addition of vegetables and whole grains.
The group's Mars Food division said it will reduce sodium by an average of 20% by 2021 and reduce added sugar in "a limited number of sauces and light meals" by 2018. The company will "significantly expand" multi-grain options, so that half of all rice products include legumes or whole grains. Meanwhile, tomato-based sauces will include a "minimum" of one vegetable serving.
Alongside reformulation, Mars said a "central component" of its agenda is the development of new products that provide "enhanced nutrition at reasonable prices". The company revealed it is exploring "new formats" and "opportunities to offer products in more places at affordable prices".
Reformulation will be rolled out across all of Mars' global markets while product launches will be market-specific, Fiona Dawson, global head of the Mars Food unit, told just-food. "We will update recipes for products sold in all of our markets … and this will be a phased approach. Any new products developed by Mars Food will be introduced in markets based on consumer demand and our existing portfolio of brands in those markets," she commented.
The initiative represents a "substantial investment" – but one which Mars believes will pay off in the long term, Dawson said. "The product innovation we are planning will require substantial R&D investments, but innovation in our brands should pay off in more relevance to consumers and growth. Planned label and website changes will require additional resources."
The owner of brands including Snickers and M&Ms also threw its weight behind government-backed programmes to reduce salt consumption and "improve overall health", citing initiatives from the UK Department of Health and US Food and Drug Administration, which are working on providing the food industry with guidance on sodium reduction.
Mars is among the first companies in the US food sector to support the draft guidance in the US.
"The food industry has already made great strides in reducing sodium, but we have more work to do to help consumers reduce sodium intake," Dawson said. "We support release of the US FDA's draft sodium reduction guidance, because we believe it's important to begin a stakeholder dialogue about the role industry can play in this critical part of consumers' diets."
Mars' strategy, dubbed its Health and Wellbeing Ambition, also sees the company increase its efforts to educate consumers on nutrition issues. The company will differentiate between "daily" and "occasional" products within its food portfolio, providing information on-pack and online about how to incorporate foods higher in fat or salt into a healthy diet.