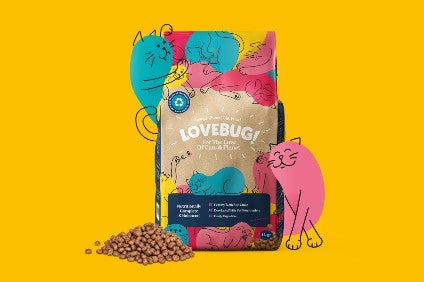 Mars' pet-food division is launching an insect-based brand for felines in the UK following a separate announcement this week that the confectionery major plans an investment in a US factory to increase output for its Royal Canin line.
The introduction of Lovebug "marks an important milestone in the journey for pet parents looking for delicious and nutritional food with a smaller environmental pawprint," Mars Petcare said in a statement, claiming the brand is the first insect-based cat food in the UK.
Black Soldier Fly larvae is the key protein ingredient in Lovebug providing amino acids, fatty acids and minerals.
Deri Watkins, the European president for Mars Pet Nutrition, said: "I've heard some people suggest that eating insects is gross. We think cats will disagree. With Lovebug, they won't have to worry about their environmental footprint. That's just the start, we have innovations on the way so pet parents will have more sustainable choices."
Lovebug is a dry cat food for adult cats and contains a "mix of amino acids and good fats and micronutrients". Available in one kilogram recyclable and plastic-free bags, Lovebug will be sold online at GBP12.99 (US$17.89).
Earlier this week, Mars said it planned to invest US$390m in a new manufacturing facility in Ohio for its Royal Canin pet food brand, building on an expansion project in Tennessee.