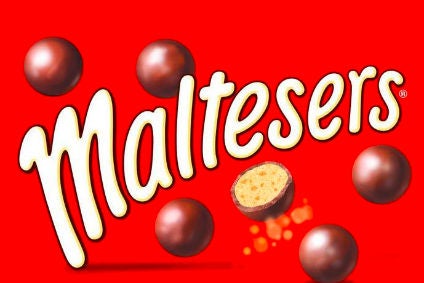 Mars Inc is rolling out its Maltesers chocolate brand in the US.
The company said the UK's "number one" bite-sized chocolate brand, which was available in US cinemas from last month, will be launched in retailers throughout the country in January next year. Maltesers will be available in convenience, drug, grocery, mass and value channels, Mars said.
The Maltesers brand will be available in five different sizes, ranging from 1.3 ounce singles to a 31 ounce "party tub". The suggested retail price ranges from US$1.09 for singles to $9.99 for the largest tub variety. The products are kosher certified, Mars noted.
Marketing support for the Maltesers launch will include digital and social media, e-coupons, sampling and in-store displays.
Earlier this month, Mars moved to unify its global chocolate and Wrigley operations into one business after buying out Warren Buffett from his investment in the chewing gum maker.
Buffett took a minority stake in Wrigley when his Berkshire Hathaway investment fund helped fund Mars' takeover of the Orbit gum firm in 2008. The stake was preferred equity on which Berkshire Hathaway was paid an annual dividend.
Mars ran its non-chocolate brands through Wrigley but said on 6 October its purchase of Buffett's stake would create a new division – Mars Wrigley Confectionery.