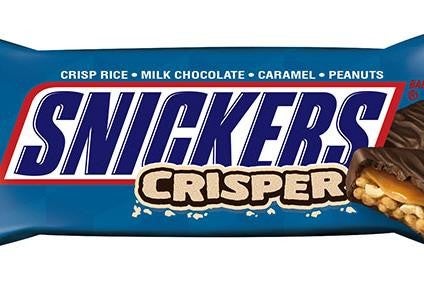 Mars has launched Snickers Crisper in the US, its "first ever" Snickers bar that contains less than 200 calories.
The Crisper bar contains crisped rice and peanuts topped with a layer of caramel and coated in milk chocolate. A single pack contains two squares at less than 100 calories each, Mars said.
"Snickers is all about satisfying hunger and we're excited to do that in a new and delicious way with Snickers Crisper," said Allison Miazga-Bedrick, director of the Snickers brand.
Tha launch is being supported with an integrated marketing campaign, including advertising, in-store promotions and displays. "Crisper delivers a new snacking option with a combination of textures, so it only made sense to highlight combinations of hilarious hunger symptoms in our supporting campaign as well."
Snickers Crisper will be available throughout the US in convenience, drug, grocery and value stores as well as mass retailers and vending machines. The bar has a suggested retail price $0.99-$1.09 for a 1.41oz single, $1.69-$1.79 for a 2.83oz 4 to Go pack and $2.69-$3.99 for 10.61oz medium fun-sized bag.