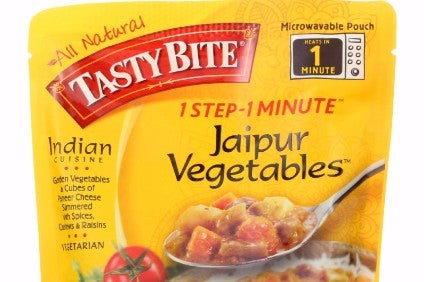 Mars-owned US ethnic cuisine business Preferred Brands International (PBI) has signalled its intention of expanding into Europe and Asia.
Reports in India, where PBI has facilities in Pune making ready-to-serve, sauce and frozen products mainly for the foodservice industry, say the company is planning to expand into new geographies and increase its production capacity following the takeover by Mars last year.
PBI sells Indian and other Asian food products, primarily under the Tasty Bite brand.
The reports say PBI plans to expand its network to Europe and Asian countries, where it has no presence and is looking at expanding into Australia and New Zealand where Mars Food has a strong presence.
It is suggested the company would also use Mars Food's network to enter the European market.
The Hindu newspaper said the company plans to double its Indian production capacity every three years.
It quotes Ashok Vasudevan, chief executive of PBI, as saying: "We have capacity [at Pune] to make 40,000 tonnes per annum.
"Our Pune unit is working at full capacity. Mars has a food line and production facilities in different parts of the world. It is our facility now and the capacity can be expanded easily. Mars Food has strong presence in Australia, New Zealand and Europe, while we have strong presence in the US for the consumer business and in India for foodservice."
Vasudevan was speaking at a Rotary Club of Madras event.
Mars signed an agreement to buy PBI for an undisclosed sum in August.