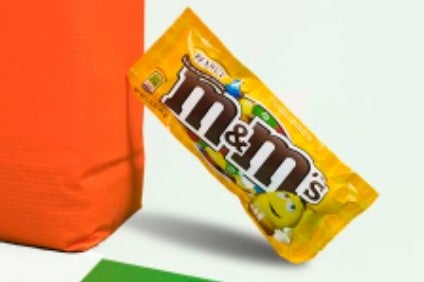 Mars is "changing how it does business" in relation to supply chains and will invest US$1bn in its Sustainable in a Generation plan launched a year ago with a key objective to reduce greenhouse gas emissions.
When the US-based business announced the programme in September last year, Mars' chief executive Grant Reid warned that the "global supply chain is broken" unless companies around the world make a "huge step change" to deliver on the climate targets under the Paris accord and the UN Sustainable Development Goals.
In a statement issued today (18 September), Mars outlined how companies might be able to work with governments, NGOs and other stakeholders to find solutions on how to reduce the impact of their operations on the environment, including the plan to invest $1bn in the project over the next "few years" in order to speed up the process.
Mars is making the announcement ahead of the UN General Assembly on climate change to be held in New York on 24-30 September.
The new plan also entails a new sourcing strategy revolving around how it sources agricultural materials to help address "key sustainability challenges" such as greenhouse gas emissions, stresses on water supply, land use, human rights and incomes. It will initially focus on ten key ingredients where the impact is greatest, including cocoa, fish, rice, and mint.
Mars said it is putting sustainability at the heart of its business, along with deepening collaboration "to deliver change at scale" with a focus on industry collaboration and NGO partnerships, and starting new initiatives.
Reid added today: "I am deeply invested in our plan to change the trajectory around how we do business. We continue to see a range of issues facing our global community – including climate change, poverty, obesity and water stress.
"Incremental improvement will not be enough. We must take action together. Mars has committed to working with governments, NGOs and industry leadership groups, like the Consumer Goods Forum, to make measurable differences – and to create a healthy planet on which all people can thrive. Collaboration is critical if we are to accelerate how we address the challenges facing us today."
Mars representatives will attend the summit in New York next week and host panel discussions. It is also partnering with Project Everyone – a not-for-profit organisation seeking progress on the UN's goals – on a "pop-up" radio station where business leaders can present their views.
Barry Parkin, Mars chief procurement and sustainability officer, said: "The transformation of supply chains is necessary across most of the materials we used to call commodities. In fact, I believe we're seeing the end of the commodities era, where materials used to be sourced from largely-unknown origins and bought purely for price on a transactional basis.
"The future will require sourcing from known origins and in many cases known farms, with price and sustainability impacts evaluated side by side and generally from longer-term partnership arrangements with fewer suppliers. We have started to make this shift."