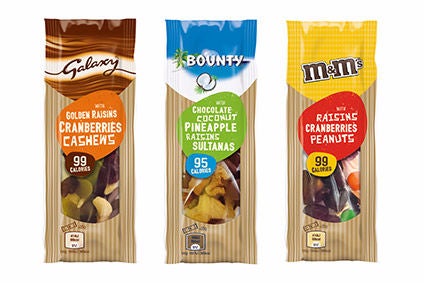 Mars Inc has launched a range of trail mixes in the UK under three of the chocolate brands it has in the country.
The US group has rolled out mixes under its Galaxy, M&M's and Bounty brands.
Citing data from IRI, Mars said there had been "triple-digit growth" in "many category segments" within the fruit, nut and seed market over the last two years.
However, Mars indicated it saw room for its brands, with many of the products in the category sold under private label. "The fruit and nut snacking category is showing significant growth through predominantly own-label products and there are few, if any, premium brands in the category," the company said.
The Galaxy product contains chocolate, golden raisins, cashews and cranberries. Mars said the M&M's mix comes with the chocolate snacks, plus raisins, cranberries and peanuts. The Bounty line has chocolate pieces, coconut, pineapple, raisins and sultanas.
Mars' trail mixes are on sale at The Co-op stores. They have a recommended retail price of GBP0.69 (US$1.02).
The company had not said at the time of writing whether it had held talks with the UK's Big Four retailers – Tesco, Asda, Sainsbury's and Morrisons – about listings, or whether it was targeting shelf-space with those chains.