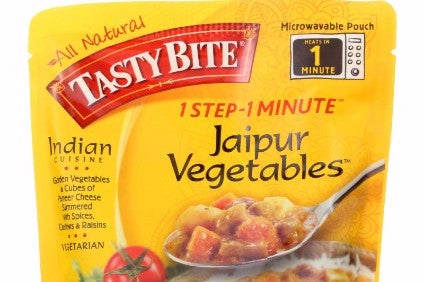 Mars has signed an agreement to buy US ethnic cuisine business Preferred Brands International, which manufactures and sells Indian and Asian food products sold primarily under the Tasty Bite brand.
The deal value is undisclosed.
Tasty Bite's portfolio includes Indian and Asian entrees, spice and simmer meal kits, as well as organic rice and lentils. While the majority of the company's sales are generated in North America, Preferred Brands International also manufactures products sold through retailers in the UK and Australia, as well as through foodservice in India.
Mars' portfolio of brands including ethnic cuisine brands Uncle Ben's and Dolmio.
Tasty Bite manufactures products out of a manufacturing facility in the Indian city of Pune. It has a subsidiary which is listed on the Bombay Stock Exchange and the National Stock Exchange of India. This subsidiary will continue to be listed after the acquisition.
Fiona Dawson, the global president of Mars' non-confectionery food arm, which is called Mars Food, said: "Tasty Bite's broad range of dinner time products, focused on Indian and Asian cuisines, makes it a natural complement to our existing portfolio.
"Tasty Bite is a fast growing Indian/Asian dinner time brand. Upon closing of the acquisition of Tasty Bite, Mars Food will expand our all-natural vegetarian offerings in the US, and leverage Tasty Bite's strong product development pipeline, flavour expertise, and strategic sourcing of quality ingredients throughout our portfolio."
Tasty Bite CEO Ashok Vasudevan said the company was "thrilled to be joining the Mars Food family". Vasudevan added: "Mars is one of the largest food companies in the world and a recognised leader and role model for corporate sustainability. Mars Foods' strong brand portfolio, global infrastructure, and shared values makes it well-positioned to take Tasty Bite to the next level."
The acquisition of Preferred Brands International is subject to applicable regulatory approvals and is expected to close by the fourth quarter of 2017.