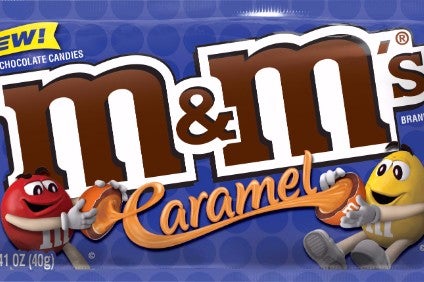 Mars has launched the "biggest product innovation ever" for its M&M's confectionery brand.

The company is rolling out M&M's Caramel Chocolate Candies in the US, the first market for the new line.
With the new product, made by covering soft caramel in a candy-coated shell, Mars is looking to tap into what it sees as nostalgia for caramel.
"Caramel is such a nostalgic and comforting flavour and its popularity is on the rise with pairings like coffees and other specialty foods. We are delighted to now give our fans a chance to experience it through the fun and colourful world of M&M's," said M&M's brand director Tanya Berman. She added it took "years" to develop the technology required to put soft caramel inside the hard shell.
Mars is lining up promotional activities including a national advertising campaign that will introduce consumers to Caramel, a character devised in a similar vein to the "spokescandies" the company uses in its ads for M&M's.
The launch of the caramel product follows a series of M&M's product launches in recent months, including the roll-out of M&M's ice cream bars in France, M&M's brownies developed under licence by Hostess Brands in the US, and M&M's train mixes launched in the UK.