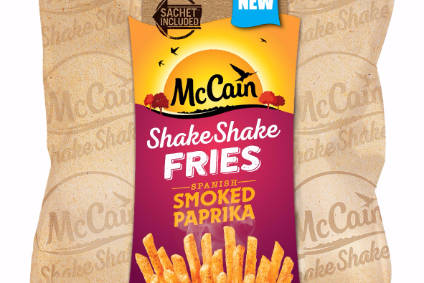 McCain Foods is making a foray into the chilled aisle in the UK with the launch of two lines.
The Canada-based group, which has a retail business focusing predominantly on frozen lines, is rolling out Shake Shakes Fries – which come with a sachet of seasoning to sprinkle on the product – and a Gourmet range of two potato items.
Mark Hodge, marketing director for McCain in the UK, said: "We recognise shopping habits are changing, particularly amongst pre and post family households where evening meals are increasingly bought on-the-day from the chilled aisle." Citing data from Kantar Worldpanel, Hodge added: There is a clear opportunity for growth in this sector as chips make up 68% of the frozen potato market but only 8% of chilled."
The Shake Shake Fries come with a sachet of Spanish Smoked Paprika or Sea Salt and Cracked Black Pepper seasoning, which can be sprinkled directly into the bag to coat the fries. The Gourmet range includes chips and roast potatoes.
The products have launched at Asda stores and will be going into Tesco and Iceland outlets "over the coming months", McCain said. The new products will be priced from GBP1.99 (US$2.58) to GBP2.49.