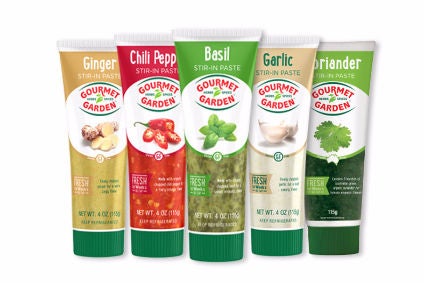 US spice and condiments maker McCormick & Co. has acquired Australian chilled herb manufacturer Botanical Food Co., the owner of the Gourmet Garden brand, in a A$150m (US$114m) deal.
The deal, announced today (19 April), was announced just a week after McCormick dropped its pursuit of Premier Foods plc after the UK group rebuffed three proposed bids for the business.
Gourmet Garden derives 90% of its sales from retail customers in North America and Australia. McCormick said the addition of chilled convenient herbs would complement its existing branded herb portfolio.
"McCormick plans to drive sales of the Gourmet Garden brand by expanding global distribution and building awareness with increased brand investment," the US company added.
Gourmet Garden has 200 employees and operates out of a site in Queensland, Australia.
Lawrence Kurzius, president and CEO of McCormick, added: "We are pleased to expand our portfolio of leading brands around the world with the addition of Gourmet Garden. As a global market leader in chilled convenient packaged herbs, Gourmet Garden exports its products to 15 countries with the largest market being the United States."
Kurzius said McCormick anticipates "strong growth" for the Gourmet Garden range, particularly in the US and "key international markets" where a convenient alternative to fresh herbs would appeal to consumers.