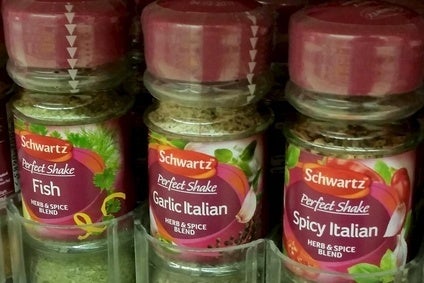 Mccormick & Co. today (1 October) issued a note of caution on its annual earnings amid "weak" results from a venture in India and a decline in the Mexican peso.
The US rice, spice and sauces group said it expects earnings per share in the year to the end of November to be "at the lower end" of its guidance range of US$3.11 to $3.18.
In July, when McCormick announced results for its second quarter, the Schwartz owner had forecast earnings per share of $3.18 to $3.25.
Excluding the impact of currency, McCormick now expects to annual adjusted operating income to rise by the lower end of its 6-7% forecast range In McCormick's 2013/2014 financial year, the company generated adjusted operating income of $608m.
"Our year-to-date sales performance and momentum have us tracking toward the upper end of our 2015 constant currency sales target. However, we have a more conservative view of our 2015 profit outlook mainly as a result of declines in the Mexican peso and in profit from our Kohinoor business in India, where actions are underway to exit certain low margin product lines and focus on current and new higher margin products," chairman and CEO Alan Wilson said.
McCormick operates in India through a joint venture with local group Kohinoor Foods Ltd. The venture, Kohinoor Speciality Foods, appears to be have been hit by a row over rice supplies.
Earlier this week, KFL accused KSF – in which the Indian company owns 15%, with McCormick holding the rest –
of breaking a supply contract drawn up when the business was formed in 2011.
KFL has said the venture agreement means it is the exclusive supplier of rice to the venture for seven years, with a lock-in period for five years. The Indian group has accused KSF – in which it holds a 15% stake, with McCormick owning the rest – of procuring supplies from elsewhere.
KFL said it had contacted the venture to object to the alleged violations, with its last email sent to the unit on 26 June. However, KFL said the venture had since sent it a notice to end the supply agreement. It claimed the venture had done so "to pre-empt the charges levelled by us".
KSF denies it has broken the rice deal but confirmed it has sought to end the contract.
McCormick said it expects group annual sales – exlcuding the impact of currency – to grow at the upper end of its 4-6% guidance range. The company anticipates that currency will lower this fiscal year sales growth range by five percentage points based on prevailing rates.
For the first nine months of McCormick's financial year, a period that ran until the end of August, it generated net income of $252.4m, down from $289.9m. Operating income stood at $336.2m, compared to $403.6m a year earlier. Some $13m of impairment and write-down charges on the KSF venture, plus restructuring costs in North America and Europe, weighed on operating income. Adjusted operating income rose 2.6% on a constant-currency basis.
Sales rose, hitting $3.09bn, versus $3.07bn in the corresponding period in the previous financial year.