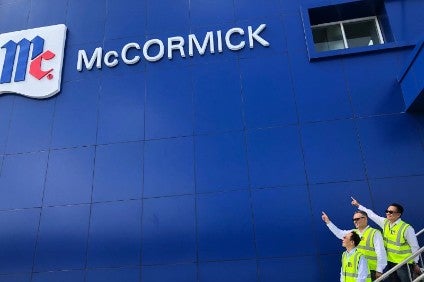 Schwartz and Ducros owner McCormick & Co. has forecast a better pace of top-line growth in 2020 after seeing its net sales grow 1% last year.
The US-based spices and seasonings giant said today (28 January) it expects its net sales to increase by 2-4% this year, driven "entirely" by organic growth. McCormick sees its top line being boosted by new products, marketing and "expanded distribution".
In 2019, the group, also a major B2B supplier, generated net sales of US$5.35bn, up from $5.3bn the year before.
Sales from McCormick's consumer-facing division and its business-to-business "flavour solutions" arm grew, the former by 0.7% and the latter by 0.8%.
Exchange rates weighed on McCormick's sales growth. Measured at constant currency, the company's net sales rose 3%.
Nevertheless, McCormick's consumer division saw its reported sales in the Europe, Middle East and Africa region drop more than 5%, hit in part by lower sales of private-label products.
Group operating income reached $957.7m, compared to $891.1m in 2018. McCormick's net income fell from $933.4m in 2018 to $702.7m last year, in part because the company was lapping a tax benefit.
In 2020, McCormick expects "strong underlying business performance to drive operating income and earnings per share growth". It said that would be "offset by a significant incremental investment associated with business transformation and a higher projected effective tax rate".
McCormick does see its operating income in 2010 coming in between "comparable" with 2019 to an increase of 2%. The company projects its spending this year on that "business transformation" – which includes bringing in a system of global enterprise resource planning – will reduce its growth in operating income by approximately 6%.
There were also be some costs to be booked for previously-announced "streamlining". Excluding those costs McCormick said its adjusted operating income is projected to be "comparable" to the $979m generated in 2019, within a range of a 1% decline to a 1% increase.
McCormick has forecast its 2020 earnings per share to be in the range of $5.15 to $5.25, compared to $5.24 of earnings per share in 2019.
Lawrence Kurzius, McCormick's chairman, president and CEO, said: "We delivered solid performance with growth in sales, adjusted operating income and adjusted earnings per share in 2019. Our sales growth and focus on profit realisation drove strong results across both our consumer and flavor solutions segments.
"The solid financial performance we delivered in 2019 was driven by our branded base business and new product growth in both of our segments, providing us with solid momentum heading into 2020."