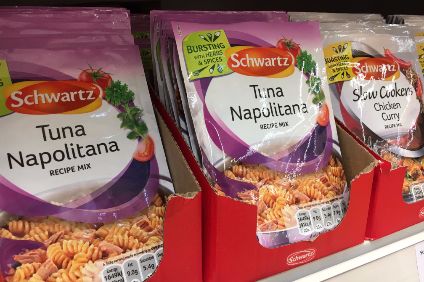 US food flavourings business McCormick has revealed its corporate and social responsibility (CSR) goals for 2025.
Its newly-published 2017 Purpose-led Performance Report focuses on the US company's responsibility to "the long-term vitality of people, communities and the planet while delivering top-tier financial results".
The sauce, mustard and seasoning producer's goals include the sustainable sourcing by 2025 of five "branded, iconic ingredients" – vanilla, red pepper, black pepper, oregano and cinnamon.
McCormick said it also wanted to "improve the livelihoods of 90% of smallholder farmers who grow its herbs and spices".
On its environmental impact, McCormick said it wants to reduce its environmental impact by "lowering its carbon footprint, decreasing water use, reducing solid waste and developing sustainable packaging innovations".
By 2025, the company is aiming to reduce its carbon footprint – based on Scope 1 and Scope 2 emissions where it has "operation control" – by 20%, based on the level in 2015. McCormick is also looking to cut its water use by the same amount, its solid waste by 80% and its packaging carbon footprint by 25%, again all compared to 2015 levels.
A fourth 2025 goal is to "champion equality for women and people of colour". McCormick said women make up 48% of its leadership while people of colour make up 23%. Across its workforce the figures are 37% women and 22% people of colour. People of colour make up 43% of the company's US workforce. By 2025, McCormick is targeting having women make up 50% of its leadership globally and people of colour 30% of its US leadership.
The Maryland-based company, behind brands such as Schwarz herbs and spices, French's mustards and Stubb's barbecue sauces, said the report and the goals contained within it incorporate and extend on its 2019 corporate social responsibility goals.
Lawrence Kurzius, McCormick's chairman, president and CEO, said: "Through our focus on purpose-led performance, we are embedding sustainability from source to shelf, supporting our diverse workforce and actively participating in our communities across the globe."