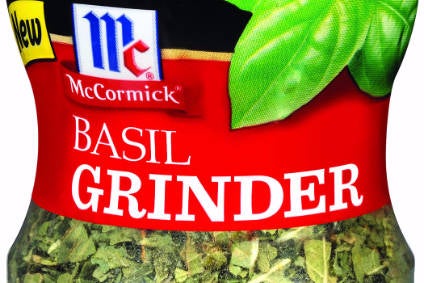 McCormick & Co. is to roll out over a dozen new products in the US in a bid to target consumer demand for convenient products, as well as for herbs, spices and sauces with more flavour.
The company said its McCormick Herb Grinders "offer the taste of fresh herbs without the time it takes to chop them". It is launching four lines – basil, parsley, oregano and an Italian blend.
McCormick is adding to its Grill Mates portfolio with a range of single-use marinades. It claimed the products – available in three flavours, including a seven-spice teriyaki marinade – would "help home cooks experiment … without any waste from leftover marinade bottles".
The Grill Mates range will have two more marinade and two more seasoning products, including a Brazilian steakhouse marinade, targeted at consumers interested in international flavours.
Another batch of single-use products is also being rolled out, with McCormick launching oven bake and skillet sauces in liquid pouches.
"Our new products bring both convenience and exciting flavors to home cooks," Virginia Jordan, the vice president of marketing at McCormick, said. "Many of these products are also driven by emerging global cuisines and flavor trends … like Brazilian and Japanese 7 Spice."
More to follow