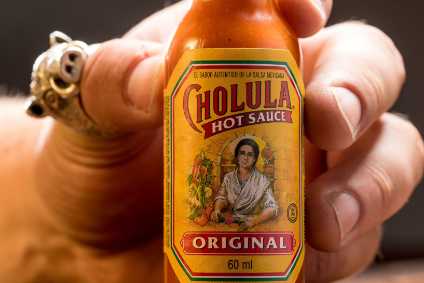 US spice and sauce giant McCormick & Co. has outlined how it plans to grow the business of its new acquisition, hot sauce brand Cholula.
Following the news yesterday (24 November) that the Frank's RedHot sauce and French's mustard owner was to pay US$800m to acquire Connecticut-based Cholula, known for its namesake Mexican-style hot sauce brand, from private equity firm L Catterton, the company's senior executives briefed analysts on its plans for the business.
Describing bringing Cholula into the McCormick fold as a "straightforward integration" given the brand's relatively small number of SKUs, McCormick CEO Lawrence Kurzius said the deal will help the company reach a broader demographic as Cholula is popular with younger, multi-cultural consumers.
Kurzius added Frank's RedHot sauce is more conventionally sold in the eastern part of the US while Cholula's sales are greater in the west.
Turning to ways McCormick can grow the Cholula brand, Kurzius said: "We have a proven playbook and unmatched expertise to effectively and efficiently unlock Cholula's significant growth potential."
He said the plan is to grow awareness of the Cholula brand, to increase availability of its products and extend the product into new flavours, formats and eating occasions.
Kurzius said McCormick also wants to drive Cholula's household penetration.
"With only 4% penetration today there is a considerable opportunity to welcome new consumers to the Cholula brand," he said.
He added McCormick will use its "category management expertise" to collaborate with retailers to "optimise shelf assortment".
And it wants to boost Cholula's online presence.
"We also plan to accelerate Cholula's under-penetrated e-commerce business," he said. Kurzius said this might involve "bundling" online promotions with other McCormick brands.
Future plans could also include international expansion as 95% of Cholula's sales currently are in the US.
Kurzius said: "In our modelling we did not build in any meaningful international sales but that's one of the potential upsides."
Expansion into other categories is also on the cards, based on McCormick's experience with the Frank's RedHot sauce brand, acquired as part of its deal for Reckitt Benckiser's food business in 2017.
Kurzius, also McCormick's chairman and president, said: "One of the things we have been able to do with Frank's is extend it beyond hot sauce."
The brand has been used for products including frozen chicken wings and appetisers and extended into seasonings and recipes.
It has also been the basis of deals with McCormick's "flavour solutions customers" for co-branded products.
"We can do the same with Cholula," Kurzius said.
McCormick is paying $800m in cash for a business that generates annual sales of $96m. McCormick said those sales are "expected to grow mid-to-high single digits in a normalised environment beyond the Covid-19 pandemic".
Mike Smith, McCormick's chief financial officer, told analysts there could be cost synergies post-acquisition in areas such as distribution and sales and marketing spend. He also said the management team brought in to run Cholula by L Catterton are likely to leave.
"I don't expect they will stay long term," Smith said.
Kurzius said the Cholula deal is part of McCormick's long-term growth strategy and that it will continue to pursue further acquisitions.