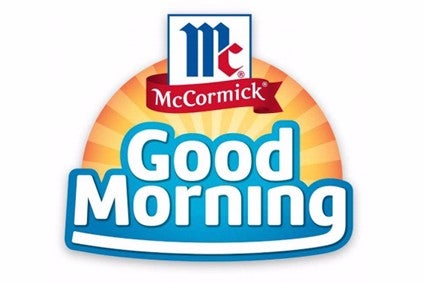 US spices and sauces maker McCormick & Co. has unveiled plans to enter the breakfast category later this year.
The group will launch a range of 18 items under the McCormick Good Morning line as part of plans to achieve US$5bn in sales for the company by the end of fiscal 2019, Brendan Foley, the president of McCormick's global consumer business and its operations in North America, said.
The new line will include Slow Cooker Breakfast, Breakfast Toppers, Smoothie Boosts and Breakfast Seasonings.
Foley told an investors' day event: "Breakfast is 17% of all eating occasions. Consumers have told us that both flavour and nutrition is a major opportunity. Consumers are looking for products that can enhance their oatmeal, yogurts, pancakes and even smoothies."
Foley said all products under the line are "clean-labelled and most of them will be gluten-free". Initial research results into the products have been "outstanding and purchase intent has been best in class", he added.
"The breakfast occasion offers tremendous opportunity to leverage our flavour expertise beyond where you typically find McCormick," Foley added.
Details of when and where the Good Morning line will go on sale and purchase prices have yet to be announced.
In January, McCormick & Co. reported a set of "record" annual results for 2016, a year in which the US spice and sauces maker said it hit "each of our key financial targets". The company booked a 17.6% rise in net income to $472.3m for the 12 months to 30 November. Sales growth was in part "driven by product innovation", the company said.