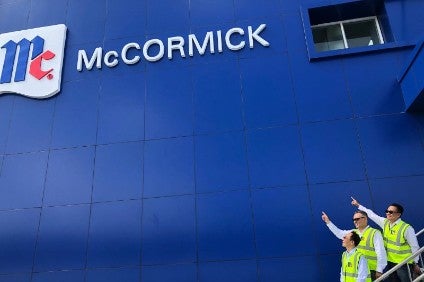 US spices and condiments group McCormick & Co. has lifted its forecast for annual earnings per share but trimmed the top end of its guided range for full-year net sales.
Announcing third-quarter results today (1 October), the Schwartz and French's owner increased its projection for 2019 earnings per share, forecasting they will be in a range of US$5.20 to $5.25.
When McCormick posted its second-quarter results in June, the company predicted annual earnings per share would be between $5.09 and $5.19. It said today its new forecast was based on a change to its adjusted effective tax rate, which the business now sees coming in at 20%.
However, McCormick, also home to brands such as Frank's RedHot sauce and Ducros spices, also provided a new forecast for the extent to which it expects net sales to increase in 2019. The company's new estimate is for growth of 1-2%, compared to its June forecast of growth of 1-3%. On a constant-currency basis, McCormick said that forecast equated to growth of 3-4%.
McCormick said it expects to "drive sales growth with new products, brand marketing and expanded distribution" but also said its top line would see the impact of price increases made to "offset an anticipated low-single digit increase in costs".
In McCormick's third quarter, which ran to 31 August, the company's sales rose 1% to $1.33bn. On a constant-currency basis, sales were up 2%.
McCormick said its consumer division saw sales rise 3%, with growth driven by its businesses in the Americas and in Asia Pacific thanks to new products, expanded distribution and marketing.
The company's B2B "flavour solutions" division saw sales decline by 2%, with sales "comparable" when excluding the impact of exchange rates.
Operating income stood at $253.5m, versus $229.9m in last year's third quarter. Net income was $191.8m, against $173.5m in the corresponding period a year earlier.
"We delivered strong sales and operating profit growth while also making investments for the future. In addition to sales growth in the third quarter, we drove strong adjusted operating profit growth and 160 basis points of adjusted operating margin expansion. Our fundamentals remain strong and we are confident the initiatives we have underway in 2019 position us to continue our growth trajectory," McCormick chairman, president and CEO Lawrence Kurzius said.