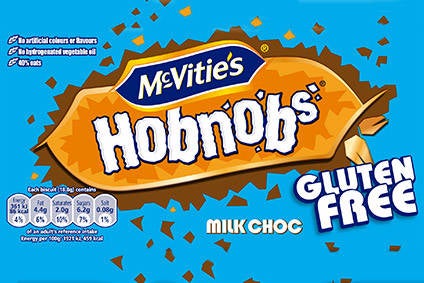 Yildiz Holding-owned United Biscuits today (6 June) announced the launch of two products in the UK – Mcvitie's gluten-free original Hobnobs and McVitie's gluten-free milk chocolate Hobnobs.
The UK's largest biscuit maker said the new range will be rolled out in stores from early in the month. The new lines will feature new packaging, based on the conventional McVitie's Hobnobs design and are expected to have a retail sales value of GBP3m (US$4.3m) in their first year.
McVitie's brand director at United Biscuits Kerry Owens said: "The free-from sweet biscuit segment is one that continues to expand, with 55% of UK consumers now open to buying gluten-free products. As the market leader in the main biscuit aisle, free-from is an important sector for us to expand into, to ensure McVitie's moments are open to all of our consumers with specific dietary requirements."
United Biscuits said the high proportion of naturally gluten-free oats in McVitie's Hobnobs "allowed the recipe to be converted without any compromise" on the biscuits' taste and texture.
"The new products will form part of the free-from sweet biscuit segment, which has seen continuous growth over the past five years, with the category doubling in size since 2012 to be worth over GBP55m today," United Biscuits said.
Earlier this year, United Biscuits set out how it believed the sector in the country could grow sales by GBP500m (US$711.2m) by 2020.