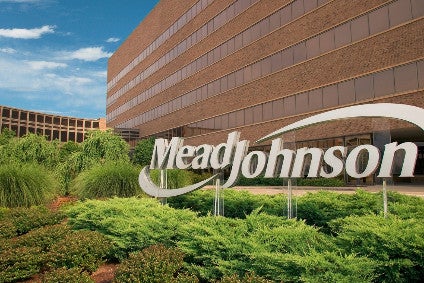 Mead Johnson , the US infant formula business, said today (26 January) its underlying net sales – its top-line number excluding the impact of exchange rates – could decline in 2017.
The Enfa brand owner forecast a range for its 2017 constant-dollar net sales of between a fall of 1% and a rise of 2%, compared to 2016.
On a reported basis, Mead Johnson expects its 2017 net sales to be between flat year-on-year and down 3% depending on how currencies moves this year.
The company also provided forecasts for its earnings per share. Mead Johnson expects its GAAP earnings per share to be in the range of US$3.05 to $3.20 in 2017, compared to $2.92 in 2016.
The business also provided a non-GAAP forecast for earnings per share, which excludes the impact of exchange-rate movements and "specified items" like charges from the company's restructuring programme. Mead Johnson estimates its non-GAAP earnings per share will between $3.35 and $3.50 in 2017, versus $3.40 in 2016.
Despite Mead Johnson forecasting its underlying net sales could fall in 2017, CEO Kasper Jakobsen said the company expects to see some growth in its top line on an underlying basis.
Jakobsen said: "As previously stated, we expect only very modest growth in both sales and earnings per share on a constant dollar basis – with performance strengthening through the second half of the year. 2017 will see us complete our strategic transition programme. We expect some pressure on both topline and costs in the beginning of the year, and the impact of currency and rising dairy costs will likely weigh on results. The impact will be partially offset by momentum behind productivity initiatives in both cost of goods and operating expenses."
The forecasts came alongside the announcement of Mead Johnson's 2016 results.
Mead Johnson's net earnings were $549.3m in 2016, compared to $655.3m in 2015. EBIT was down 2% at $277.6m. Various factors impacted Mead Johnson's profits, including its business in Venezuela, for which the company booked foreign exchange losses, "long-lived asset impairments and other asset write-offs". Mead Johnson also pointed to the costs of its "fuel for growth" programme, drawn up to improve efficiency and reduce costs but for which the company is booking charges.
On a reported basis, net sales fell 8% to $3.74bn. On a constant-dollar basis, net sales were down 3%. Excluding the impact of Mead Johnson's business in Venezuela, its constant-dollar net sales were down 2%. Constant-dollar net sales fell in each of Mead Johnson's geographic segments of Asia, Latin America and the combined North America/Europe unit.