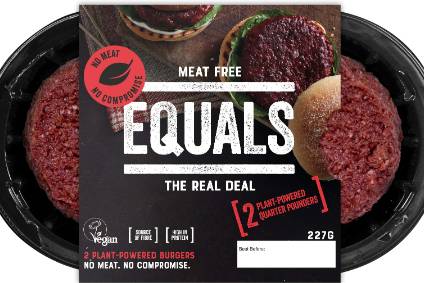 Ireland-based ABP Food Group is the latest meat processor to reveal plans to expand into the plant-based arena.
The County Louth business has launched its first fresh plant-based, meat-free brand for distribution in the UK.
The new brand is called Equals and will be available to consumers next week.
Darren Jones, commercial director for ABP's operations in the UK, said: "We are very excited about our first fresh brand launch into the meat-free category. Our core business is and will remain in beef but we recognise the growing demand for products that fit a flexitarian and meat-free lifestyle. As a business, we have long invested in understanding market and consumer trends and we have a keen interest in exploring opportunities that provide consumers with choice."
The company – owned by businessman Larry Goodman – said the move is part of its "multi-million pound" investment in branded and ready-to-cook meat and meat-free products which complement its core processing business.
Its Equals' launch product is a pack of two quarterpounder meat-free burgers, made from a mix of seasoned pea and soy proteins.

The Equals brand launch is being supported by a GBP250,000 (US$325,528) in-store marketing and social media campaign and will be available in Asda stores.
ABP said it plans to extend listings to other retailers and foodservice providers over the coming months.
The company first entered the wider meat-free category in 2011. It employs more than 100 people at its Eatwell meat-free processing facility in Liverpool.
ABP manufactures branded meat products on licence and makes own-label products for retailers. It also exports Irish beef to countries such as the Philippines, Japan and, since last April, China.
Earlier this week, Ireland-based Kerry Group, another company doing business in meat, said it was preparing to launch meat-alternative products.
just-food's guide: Eyeing alternatives – meat companies with stakes in meat-free