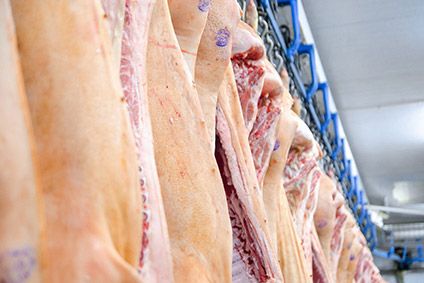 Meat production in Victoria is to be scaled back as part of new lockdown measures after a jump in Covid-19 cases in Australia's second most populous state.
Daniel Andrews, Victoria's State Premier, announced a series of new lockdown restrictions covering the state in a bid to dampen transmission.
For six weeks from 23:59 local time on Friday 7 August 2020, meat-processing plants in Victoria will not be allowed to have more than two-thirds of their workforce on-site at any time.
"In industries that can't close, but where we've seen a number of cases or emerging new risks, we'll be making some big changes to make these workplaces safer – for workers and for their families," Andrews said yesterday (3 August). "That includes mandated reductions to the number of workers onsite. In the meat industry – and based on the minimum required to operate safely onsite – the workforce will be scaled back to two-thirds. Unlike other changes, and recognising the risk these sites have posed here and around the world, this will apply to abattoirs in Melbourne and across the state."
Warehousing and distribution centres in the city of Melbourne, Victoria's state capital, will also be limited to no more than two-thirds the normal workforce on-site.
Speaking to reporters on Monday, Andrews said: "We know that meatworks are a really significant challenge for us. Whether it be lamb, poultry or beef, they will move to two-thirds production."
Andrews was quoted by broadcaster 7News as saying the industry would have "some of the most stringent safety protocols that have ever been put in place in any industrial setting". He added: "Those workers will be essentially dressed as if they were a health worker. Gloves and gowns, masks and shields, they will be working in one workplace only, they will be temperature checked, they will be tested.
"It's a proportionate response to the risks that industry poses, but given the critical part in keeping Victorian fed and indeed the nation fed."
Australia has 18,729 confirmed cases of Covid-19 according to the latest data from the country's Department of Health , States & Territories. Some 12,335 of those have been in Victoria. Some 125 of the nation's 310 deaths from the disease have been in the state, the data showed today.
In a stock-exchange filing today, Australia-based poultry business Inghams said the measures would restrict output at two of its meat processing plants, which are located in Somerville and Thomastown. However, Inghams said the restrictions do not apply to other assets and facilities in the company's supply chain such as its hatcheries, farms, feed mill or logistics operations.
The new "stage-four" restrictions were introduced across metropolitan Melbourne from Sunday for six weeks. So-called "stage three" restrictions will be implemented across regional Victoria from 23:59 local time on Wednesday.
Social media posts from Australia have appeared to show shortages of certain products at local stores as shoppers react to the new measures.
Panic buying in full swing at my local Aldi in Melbourne. Virtually no meat on the shelves. #COVID19Aus pic.twitter.com/7FuvDUkDYs

— Kathryn Powley (@KathrynPowley) August 2, 2020
Meanwhile, workers at an alcohol distribution centre operated by Woolworths , Australia's largest food retailer, yesterday reportedly walked out after an employee tested positive for Covid-19.