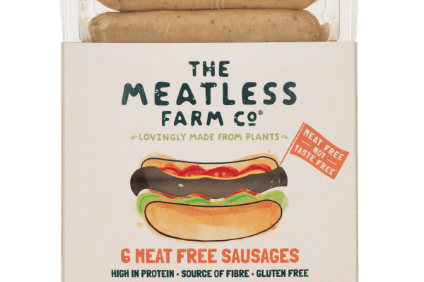 A top executive at UK plant-based protein business The Meatless Farm Co. has said he would be happy to see increased scrutiny of the category in relation to better-for-you claims.
Dr Peter Hynes, head of research and development at the business, which produces meat-free burgers, sausages and mince, told just-food it is possible to have "an unhealthy vegan lifestyle".
Industry analysts and market watchers have suggested that consumers will be looking more closely at the ingredient lists of plant-based products next year and will be questioning the assumption that such food is better-for-you by design.
Hynes said: "I would welcome that [additional scrutiny}."
He added: "It's about challenging any product you put into your mouth. We should be transparent to show we've got nothing to hide and people's awareness of food nutrition should be raised. People should be held accountable for the products they put out there."
Dr Hynes, a recent recruit to The Meatless Farm, having previously worked for Unilever and Taylor's of Harrogate, says a balance has to be found between healthy ingredients and taste.
"We are looking for a product that will have all the benefits of meat but none of the negatives," he said. "A great tasting [plant-based] burger that is high in fat and salt defeats the object of what we are trying to do. We want the product to be as clean label as possible but it can't be bland.
"It's finding that balance. How to get that salty, umami flavour without putting bad things in it. But if you take something like soy out you have to find a way of replacing that. And they have to be good products. If they are not tasty people will only try them once."
Hynes is one of a number of recent high-level recruits at The Meatless Farm. Earlier this week the company, which was established three years ago, announced former Lidl boss Jesper Højer had joined as chairman.
The appointment follows Lone Thomsen joining as chief marketing officer from Coca-Cola in September.