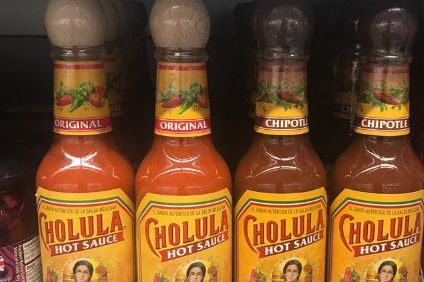 Cholula, the Mexican hot sauce brand, has been acquired by US private-equity business L Catterton for an undisclosed amount.
The deal is a collaboration between Grreenwich, Connecticut-based L Catterton's Flagship Buyout Fund and L Catterton Latin America.
Cholula was previously backed by a group of investors including Mexican tequila producer Jose Cuervo.
Named after the oldest still-inhabited city in Mexico and introduced into the US in 1989, Cholula, with its signature wooden cap, has grown to become one of the best recognised hot sauce brands in the world.
L Catterton said its acquisition will allow Cholula – manufactured in Jalisco, Mexico – to become a stand-alone enterprise.
Scott Dahnke, global co-CEO of L Catterton, said: "Cholula represents a compelling opportunity to invest in a premium brand with an established reputation for quality and authenticity in the growing hot sauce category.
"We look forward to partnering with Cholula's talented management team to capitalise on the brand's immense white-space opportunity in the years to come."
L Catterton has experience investing globally in CPG brands. Current and former investments include The Honest Company, Kettle Brands, Plum Organics and Ferrara Candy Company.
It has more than US$15bn of equity capital across six "fund strategies" in 17 offices globally.