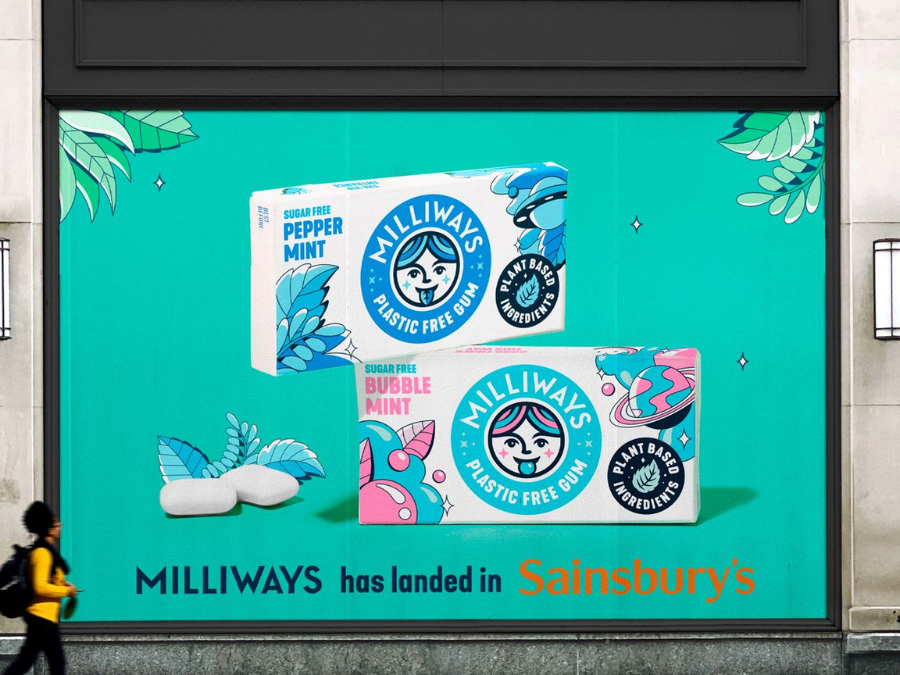 UK-based plastic-free chewing gum brand Milliways has secured its first major supermarket listing with Sainsbury's.
Launched in 2021, Milliways offers an alternative to conventional chewing gum which typically contains single-use plastic. The UK brand's gum contains seven ingredients and is biodegradable, plastic-free and plant-based.
Milliways CEO and founder Tom Raviv described Sainsbury's as "an incredible fit" for the brand. The retailer is set to stock two products: Peppermint and Bubblemint. Mighty Mint and Watermelon, the two other flavours, are not on offer.
Speaking exclusively to Just Food, Raviv discussed the company's future in the UK and the outlook for plastic-free gum on the whole.
"Winning a contract with Sainsbury's is monumental to us because it just means that our product aligns with our mission of replacing plastic-based gum," Raviv told Just Food. "Ultimately, that's what it comes down to – being a plastic-free alternative to big brand gum as and when people need it."
"Sainsbury's complements that sort of channel strategy that we have as a business so well. You know, just given the scale and how it sits within the grocery landscape and the demographic that it appeals to."
The chewing gum packets sell at an RRP of between £0.99 ($1.23) and £1.25 ($1.56). Milliways' other UK stockists include Costa Coffee, while the company also sells online.
In terms of UK expansion and growth, Raviv is open to discussions to allow his brand to become as accessible as possible.
"Our ambitions are to build a global business and, in many ways, to make plastic-free chewing gum that everyday norm and the obvious choice for consumers so it's absolutely in our interest to be speaking to wherever chewing gum sort of sits neatly into that product range, be it other major grocers, other convenience chains, other coffee shops. Naturally, that's a part of our business."
Milliways says 85% of consumers are unaware conventional chewing gum contains single-use plastic. Raviv claimed his company's focus on ingredients and product innovation helps separate Milliways from competitors.
He said: "I think one of the most important underpinnings of the brand's business and products that we built to date is our continuous investment and rich meticulousness in developing high-quality products and investing in R&D.
"So, we continue to drive trials and flavour enhancements and product enhancements on a regular basis. And I think, first and foremost, that's what separates us from our other sort of plastic-free incumbents."
Raviv argued the chewing-gum industry has suffered "a complete lack of innovation" for a "long time".
"From a recipe perspective, as well as a brand perspective, I think chewing gum decades and decades ago used to be an exciting product, it used to be a sexy product in a way," he noted.
"And I think over the last few years, many other categories have been sort of inundated with innovation, excitement, witty branding and marketing. And, in my opinion, that was lacking over the last few years until I launched [Milliways]. In many ways, I couldn't remember the last new gum brand that came to the market and was really exciting and made me want to switch over from the brand and flavour I've been chewing for so many years.
"So it was so important that when we started that we developed a brand that really resonated with as many people as possible, in a fun and exciting manner that got people excited to chew again or curious to chew again or curious to understand the brand story."
According to Milliways, chewing gum is the second most littered item in the world, just behind cigarettes, with most of the gum being non-biodegradable single-use plastic.
The brand's last round of funding came in October 2021 when it received £1m.