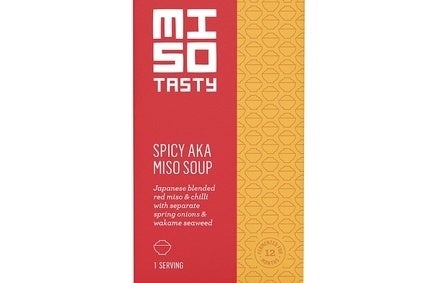 Japanese soup brand Miso Tasty has secured its first listing with a mainstream UK grocer.
The brand has won listings at Sainsbury's, after initially featuring on shelves in Harvey Nichols, Selfridges and Whole Foods Market.
Founded by Bonnie Chung, Miso Tasty's soups are made in Nagano at the foot of the Central Japanese Alps where the miso is fermented in traditional cedar barrels using snowmelt.
Chung says: "We've worked incredibly hard to get the recipe perfect, spending a great deal of time researching different types of miso in Japan; learning about its history and make-up. We decided to make sure that our soups were in keeping with tradition. So rather than dehydrating it like other companies do, we kept our miso paste in its natural form, which means it hasn't been through any artificial processes and is completely additive-free!"
Miso Tasty is available in Classic Shiro or Spicy Aka flavours, priced at GBP1.35 (US$2.04) for a single pack.