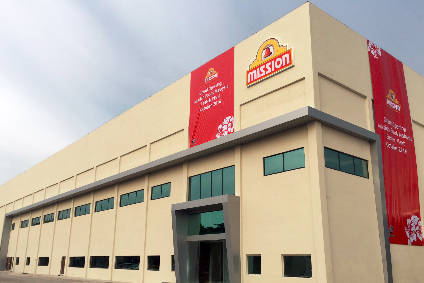 Gruma, the Mexico-based food group behind the Mission brand, has booked improved annual sales and earnings.
The company posted net sales of MXN68.21bn (US$3.43bn) for 2016, up 17% on 2015. Operating income grew 24% at MXN9.12bn.
Gruma's net majority income jumped from MXN762m in 2015 to MXN5.92bn, with the business lapping figures that included losses from operations now discontinued.
The group providing commentary on its performance in the fourth quarter of 2016, when it said its profits were boosted by its US operations and by the weakness of the Mexican peso.
Fourth-quarter net sales were up 24% at MXN18.82bn. Gruma pointed to the benefit of a weaker peso and higher sales volumes from its Mexican flour unit GIMSA, from its operations in the US and from its business in Central America. The GIMSA unit was also helped by price hikes, while the company's US arm had an extra trading week.
The improved net sales helped drive a 29% increase in operating income to MXN2.48bn. Gruma booked majority net income of MXN1.7bn, compared to a loss of MXN2.69bn in the fourth quarter of 2015.