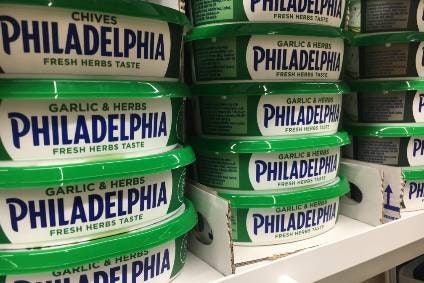 Snacking and confectionery major Mondelez International is investing in a German plant to boost production of Philadelphia cream cheese spreads and Miracel Whip mayonnaise amid an increase in consumer demand.
The US-based business is ploughing EUR12m (US$14m) into its factory in Bad Fallingbostel, located in the north-west state of Lower Saxony, considered as one of Mondelez's largest facilities in Europe. The plant produces more than 250 items for the European market – around 40% of which are sold into Germany – and also for destinations in the Middle East and Africa, the company said in a statement.
Mondelez added the expansion project will create around 30 jobs as it seeks to meet the increased demand for its Philadelphia and Miracel Whip brands as more people eat at home due to the restrictions linked to the coronavirus pandemic. The plant currently employs about 600 staff.
"Our popular brands like Philadelphia or Miracel Whip play an important role in the lives of our consumers. That is why we are very pleased about the investment in expanding our production capacity and in sustainability projects," Kerstin Picker-Münch, the director at the plant in Bad Fallingbostel, said.
Just Food has approached Mondelez for more details on the sustainability agenda, which it described as efforts to "optimise the energy supply", and for further insight into the production capacity increase.
In 2012, what was then Kraft Foods spun off its North America grocery business to become Kraft Foods Group, while the snacks part of the business became Mondelez International. Then in 2015, H.J. Heinz merged with Kraft Foods to create Kraft Heinz.
Kraft Heinz owns the Philadelphia brand in the US, while Mondelez has the rights to market the product in Europe.
Miracel Whip, meanwhile, is a German version of the Miracle Whip mayonnaise brand sold by Kraft Heinz in North America.