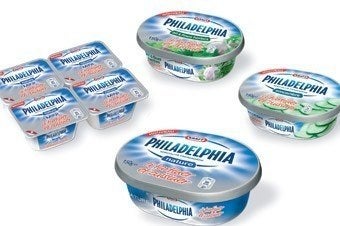 Mondelez International has declined to comment on speculation it is planning on offloading the Philadelphia cheese brand, which it owns outside the US and Canada.
A report in The Sunday Times, citing sources in the City of London, said Mondelez could sell the rights to Philadelphia later this year after separating its European soft cheese and grocery division from its snacks business, which includes brands like Cadbury and Oreo. It is reportedly hoping to fetch US$3bn through a sale of the unit.
A spokesperson for Mondelez told just-food today (30 March): "As a matter of practice, we do not speculate on market rumours. We continually review the brands and products within our portfolio and their role in our business.
"Back in 2014, we created a predominantly stand-alone cheese and grocery category in Europe, which includes Philadelphia and other iconic national brands, to ensure appropriate focus and create the flexibility required to ensure the long-term success of this business. This decision reflects the different portfolio and route-to-market characteristics of these businesses and provides platform to create value for both our cheese and grocery and core snacks categories. The intention is to optimise and grow our brands and to focus resources – for example investments in marketing and innovation – appropriate to the needs of each business."
Reflecting on last week's announcement by HJ Heinz and Kraft Foods Group of their plans to merge, Sanford Bernstein analyst Alexia Howard said Mondelez's grocery business could be a future takeover target for the new Kraft Heinz Co.
"The closest implications from the Kraft and Heinz merger is likely for Mondelez, as down the line, a takeout of Mondelez's grocery business by the new combined Heinz and Kraft entity is possible and very strategic, in our view."
When the former Kraft Foods Inc split in two in 2012, Mondelez took on the rights to Philadelphia in markets outside the US and Canada. The new Kraft Foods Group held the rights to the brand in North America.