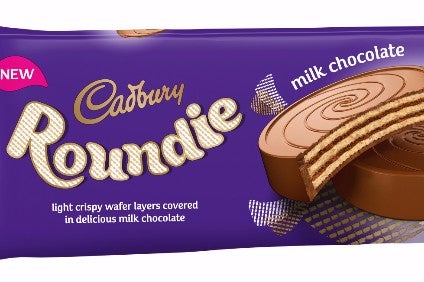 Mondelez International CEO Dirk Van de Put has talked up the longer-term prospects of its "powerhouse" UK business despite acknowledging the short-term issues Brexit could cause.
Van de Put said Mondelez believes the UK is "over the long-term … a very strong market" and the company is "ready to deal" with the "challenges" that may arise from Brexit.
"It's a business that we want to protect and we are sure that if we have to deal with any short-term or even a little bit longer-term disruption that in the end we will be back stronger than before," Van de Put told analysts on a call to discuss Mondelez's second-quarter financial results.
The UK is scheduled to exit the EU on 31 October and recently-installed UK Prime Minister Boris Johnson has, while emphasising he would prefer to strike a deal with Brussels on the terms of the departure, insisted the country will leave on that date in any case.
Johnson's comments has raised the likelihood of a so-called no-deal Brexit, with no agreement on the terms of its departure, an exit from the EU Single Market and Customs Union and including the country immediately trading with Brussels on terms set by The World Trade Organization.
A number of food-industry organisations have expressed alarm at the prospect of a no-deal Brexit. The Food and Drink Federation, which represents food and soft-drink manufacturers doing business in the UK, said last week no-deal could do "mortal damage" to the sector.
In 2018, Mondelez generated 8.6% of its net revenues in the UK. In Mondelez's 2018 annual report, the company set out how it could be affected by the UK departing the EU without an agreement, including "increased costs from re-imposition of tariffs on trade" between the two markets, "shipping delays" "and shortages of certain goods". The company's facilities in the country include the historic home of chocolate business Cadbury in Bournville, which joined the business when the then Kraft Foods acquired Cadbury plc in 2010.
On the conference call yesterday to discuss Mondelez's second-quarter financial results, J.P. Morgan equity analyst Ken Goldman asked the company's management if it could quantify some of the risks associated with such a departure.
"It's difficult to speculate. I can give you an indication of what we think the possible effects are of a Brexit, but to quantify that exactly is a little bit difficult since we do not know which shape or form Brexit will take," Van de Put said.
"Having said that, the UK business is an important business for us. It's also one of our powerhouse businesses. It's a market that is doing very well for us. It's very profitable and growing at a very good pace.
"It's very difficult to speculate, but there's different forms of Brexit. And if there is a hard Brexit there will certainly be implications to our business. In the short-term, we are largely talking about supply-related issues."
Van de Put said Mondelez had put in place plans in areas including the supply of raw materials and warehousing ahead of the UK's initial scheduled date to leave the EU, which was 29 March. That date was pushed back to 31 October after the UK government failed to get parliamentary support for an agreement on the terms of Brexit thrashed out by London and Brussels.
"The trade called our preparation one of the best, if not the best, preparations for a potential Brexit and we are going to put that plan back in motion," Van de Put claimed. "We thought it would cover us very well on the short-term potential effects of disruption in the supply chain."
The Mondelez chief acknowledged a UK departure from the EU could cause "a currency devaluation and inflation", adding: "Those are effects that are much more difficult for us to estimate. It would lead to a number of other changes that we needed to implement related to pricing, related to sourcing. Those are more of longer-term effects. And as I said at this stage very difficult to exactly estimate what the quantitative effect will be.
"We are ready to deal with these challenges as you can imagine. We are running scenarios and we are ready to implement. We do believe that over the long-term this is a very strong market. It's a business that we want to protect and we are sure that if we have to deal with any short-term or even a little bit longer-term disruption that in the end we will be back stronger than before. As you might know we have a very significant production presence in the UK and we see ourselves capable in the end to supply the UK from the UK if need to."