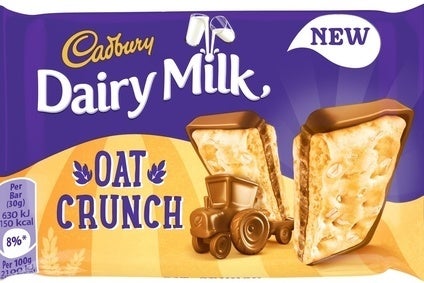 Mondelez International is targeting UK consumers looking to sate their hunger in the middle of the mornings with its latest Cadbury-branded line.
The snacks giant has launched Cadbury Dairy Milk Oat Crunch, combining an oat biscuit with its flagship UK chocolate brand.
Matthew Williams, marketing director at Mondelez, said: "As the number one chocolate brand, we are constantly innovating and identifying unique opportunities to expand chocolate occasions and drive category growth. With small portions, portable format, a great oaty taste which is synonymous with the morning and at just 150 calories per serving, we believe it will meet consumer needs during the day part."
The biscuits are available as a 30g countline with an RRP of GBP0.58 (US$0.87) or in multipacks of three at GBP1.49.